On March 16, 1962, Flying Tiger Line Flight 739 was on a secret mission, but disappeared. On board were 93 United States Army soldiers and 11 civilian crew members.
Very little is known about what happened to the plane and its passengers, and due to the circumstance surrounding this mission, the names of those lost have not yet been added to the Vietnam Veterans Memorial in Washington D.C.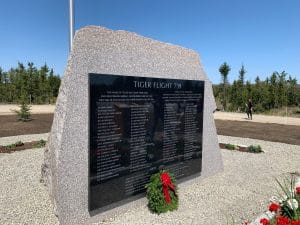 On Saturday, many families and loved ones of these heroes gathered in Columbia Falls, Maine, where national nonprofit Wreaths Across America (WAA) is based, to be present for the unveiling of a new monument dedicated to the men who were lost.
The new monument – made entirely of granite, standing 8 feet tall, 9.5 feet wide, 4 feet deep at its base – displays the engraving of each of the 93 Army soldiers aboard, as well as the names of the 11 flight crew members, many of whom were veterans themselves. The inscription on the stone reads:
"Missing in action; Presumed dead. Flying Tiger Line Flight 739 went missing on March 16, 1962, with 93 U.S. Army soldiers on board. These men and their flight crew perished in what would become one of the biggest aviation mysteries out of the Vietnam War era. 
THE NAMES OF THOSE WHO GAVE THEIR LIVES AND WHO REMAIN MISSING ARE INSCRIBED HERE SO THAT THEY WILL BE SAID ALOUD AND THEIR MEMORY WILL LIVE ON."
Dianna Crumpler was among the family members who attended the unveiling of the monument.  Her brother, James Henry Taylor, was on Flight 739.  Dianna, who was 17-years-old when the flight disappeared, shared his story.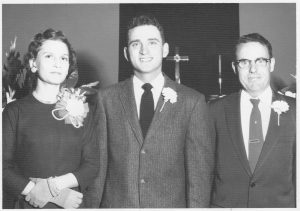 James Henry Taylor was born in Memphis, TN on January 17, 1938 to James Walter and Helen Taylor of Olive Branch, MS.
Crumpler said, "James attended college at then Northwest Mississippi Junior College, now known as Northwest Community College, in Senatobia.  There he met Deanna Brown from Crenshaw, MS, and fell in love.  They were married after he graduated from Northwest.  He then attended Southwest College in Memphis, now known and Rhodes College, and was pursuing a career as a pastor in the Presbyterian Church.  After he finished two years of school, he found out that his wife, called Dee, was pregnant with their first child, Merry Tamah Taylor-Mattix.  James decided the best way to take care of his family was to enlist in the Army."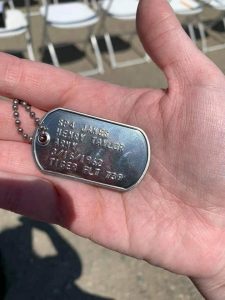 "He spent two years in the Army when Dee became pregnant with their second child," said Crumpler. "A couple of months before Jamie Ann was born, James re-enlisted because he could finish his next three years in the Army and also study to be a minister while in the service."
"There was a month between the two terms of service when James had time off to bring his family back to Olive Branch to live while he served, or at least until he was stationed at a permanent base.  The mission to Vietnam was his first deployment." Crumpler said, "This mission was on Tiger Line Flight 739.  It was a very secret mission.  It was such a secret mission that all  the men were told they could bring nothing with them that identified them in any way.  They had to leave wedding rings, pictures, dog tags, everything at home.  I have since learned that many of the soldiers told their families that they would likely not be returning alive.  I didn't know this and neither did my family."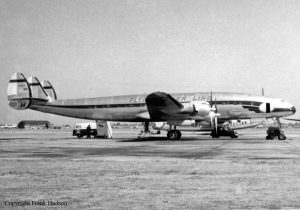 "The flight left on March 16, 1962 and was lost from radar between Guam and the Philippines or Saigon," said Crumpler. "I know that they made it to Guam because he stopped long enough while they were refueling to drop a postcard to his wife to tell her that he loved her and missed her and where he was.  This was the last contact with him."
Crumpler said, "The largest search ever made in the Pacific was launched and several countries joined in the search for anything.  Nothing, not even a shred of anything, was found by anyone.  After 8 days, the search was called off.  This broke our hearts."
Sadly, Crumpler said shortly after James left, Jamie Ann was born with a heart defect and only lived for 12 days. His daughter Merry was 2-years-old when her father departed on Flight 739.
Merry said, "It was difficult growing up without a father, and that not knowing what happened added a layer of grief and lack of closure."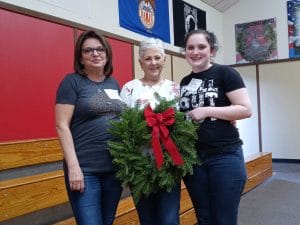 Merry attended the dedication of the monument with her Aunt Dianna in Maine. "As I listened to the sons and daughters that share my experience, it was clear that I was not alone. To have our fathers honored in such a meaningful way is healing, and I hope that the attention their story garners from coverage like this will assist in our goal to have them recognized by our government as they should be," she said.
When describing James, Crumpler said he was very popular in school. "His friends called him "Tater" and everyone who knew him commented about his smile." She said, "They would say that they never saw him when he wasn't smiling or laughing that crazy laugh that everyone knew was coming from him."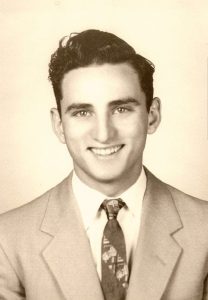 "He loved people and was the youth director at our church, which is the same church I attend in Olive Branch – Bethel Presbyterian Church, PCUSA," said Crumpler.  "It was there the pastor there took James under his wing and loved him like his own son.  "You might say he mentored him for the ministry."
Crumpler said, "James preached a sermon about going to heaven the Sunday before he left on that final flight.  The name of the sermon was "The Odds against going to Heaven are 6 to 1" which was named after a popular song in the early sixties".
Dianna, along with her brother, Curtis Taylor, were in their teens when James Taylor left on that fateful flight.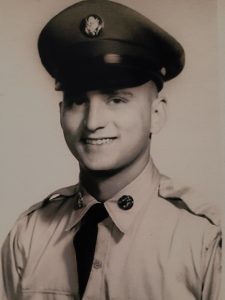 "James, along with these other soldiers, and even the crew, deserve more than they got from the government then and now," said Crumpler.  "The monument in Columbia Falls, ME is wonderful and it took my breath away to see his name finally as a memorial somewhere.  The government should have done something for these men.  It has been 59 years now, and most people haven't even heard of this tragedy.  Now it is beginning to be heard because of the families who are striving to have their names on the Vietnam Wall in DC."
Crumpler added, "There is really no logical excuse anymore for their names not being added.  Who cares if it wasn't sanctioned or was secret?  It is time for action by our government to step up and honor these young men who gave their lives for our country.  One official stated that perhaps it's because they were not killed in action.  They were doing government business, authorized or not, sanctioned or not."
In 2019, Senator Gary Peters of Michigan introduced S.1891, the Flying Tiger Flight 739 Act – a bill to provide for the inclusion on the Vietnam Veterans Memorial Wall of the names of the soldiers who died on Flight 739. The bill was referred to the Committee on Energy and Natural Resources.  No further action is noted.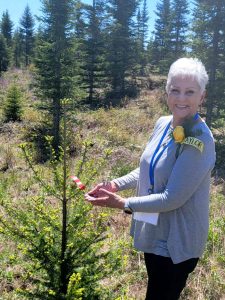 The land where the monument was erected was donated by WAA Founder Morrill Worcester.  It's located on the balsam tip land where brush is harvested each year to make veterans' wreaths to be placed on the headstones of our nation's heroes on National Wreaths Across America Day. "When I first heard the story about this mission, I was shocked to learn that nothing has been done for these families," said Worcester. "I said that day, that we would do something to make sure these people are honored and remembered, and to hopefully give some closure to these families."
During Saturday's ceremony the names of each person aboard Flight 739 were honored as they were read aloud. There are renewed efforts to add the names of the men who perished on Flight 739 to the Vietnam Veterans' Memorial Wall as an everlasting tribute to their sacrifice and service.  Family members hope someone in Congress will heed the call.
The post 1962 disappearance of the Flying Tiger Line Flight 739 – Mississippi soldier among the 104 still missing appeared first on SuperTalk Mississippi.