The COVID-19 field hospital at the University of Mississippi Medical Center will be open for patients today, according to plans announced Thursday during a news conference held in the mobile facility. 
The 20-bed low-acuity facility located in a parking garage on the UMMC campus will be joined early next week by an outpatient area that will offer monoclonal antibody treatment to the public. The mobile hospital tent will be staffed by a medical team including doctors, nurses, pharmacists, respiratory therapists and other medical professionals from the National Disaster Medical System, sent to Mississippi through the U.S. Department of Health and Human Services.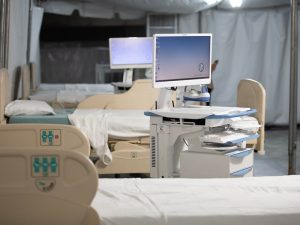 "We're very thankful we've got this federal resource team that's going to be able to assist us in our efforts to take care of COVID-19 patients," said Dr. LouAnn Woodward, vice chancellor for health affairs and dean of the School of Medicine. "We're still seeing the daily numbers of new cases in Mississippi go up, and when that happens, of course, we expect that a little after that we'll see the hospitalizations and ICU admissions follow." 
Thursday the Mississippi Department of Health reported 4,412 new cases of COVID-19 from the previous day, a record high for the state. In addition, UMMC had 113 patients with COVID-19, including 19 children. Hospitals around the state transfer severely ill COVID-19 patients to UMMC so they can receive a higher level of care. 
"We see this as a good opportunity to get a little bit of relief," Woodward said, "as we are trying to manage both an increasing number of COVID patients as well as all the other patients who are coming to us for care, and those numbers have not diminished. … Our ICUs are full. Our patient beds are full." 
The request for additional medical staffing was made by MSDH in conjunction with the Mississippi Emergency Management Agency, the Office of the Governor and UMMC and was announced Wednesday. A day later, the field hospital was furnished with freshly made hospital beds.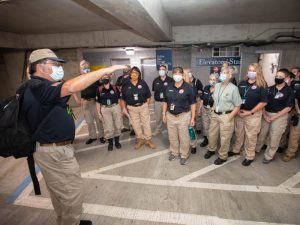 Patients with COVID-19 will be treated inside the mobile hospital, which offers the same level of care as a brick-and-mortar hospital room, said Dr. Jonathan Wilson, UMMC's chief administrative officer. Chest X-rays, cardiac evaluations, oxygen and IV fluids will be offered inside the facility, which will be cooled by multiple HVAC units. 
The federal medical team will be caring for patients at the field hospital for 14 days, giving UMMC and other hospitals in the state help in caring for the rising number of hospital patients with COVID. 
"This is intended to be a resource for the entire state," Wilson said. "We've been saying health care is a finite resource. This (field hospital) is a finite resource, but we intend to maximize it every day we have it operational." 
Dr. Alan Jones, associate vice chancellor for clinical affairs, recalled the opening of a field hospital at UMMC in the same location in 2020. "None of us wanted it to come back to this point." 
"We already have a waiting list of patients to come here from other hospitals," Jones said of the field hospital.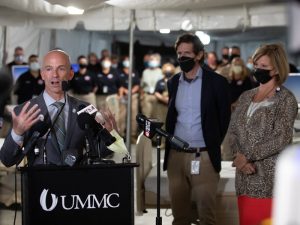 Each day, the outpatient area of the field hospital will care for 60 to 100 patients who need monoclonal antibody therapy to fight COVID-19. 
"We hope that by offering an outpatient treatment venue, we will decrease the number of patients we have to see in here," Jones said in the news conference inside the field hospital. 
More than 90 percent of COVID-19 patients being treated at UMMC are unvaccinated. Woodward said that, to stem the tide of patients flooding the state's hospitals, eligible Mississippians should get vaccinated. 
"It's not too late to get vaccinated," Woodward said, "and that is our path out of this challenge that is before us."
---
Story provided by Annie Oeth, University of Mississippi Medical Center Communications and Marketing 
The post Amid COVID-19 record-breaking surge, UMMC field hospital opens to help more patients appeared first on SuperTalk Mississippi.