Congressman Steven Palazzo has introduced H.R. 3175 to designate the facility of the United States Postal Service located at 135 Main Street in Biloxi, Mississippi as the "Robert S. McKeithen Post Office Building".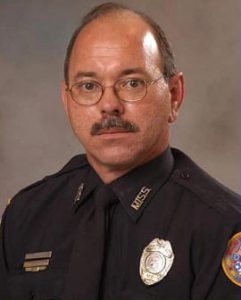 Officer McKeithen died in the line of duty after he was ambushed outside the Biloxi Police Department on May 5th, 2019.
McKeithen graduated from the University of Mississippi and went on to serve in the U.S. Air Force, where he earned the Air Force Commendation Medal, the Meritorious Service Medal, and the Air Force Achievement Medal. He retired from the Air Force as a Tech Sergeant.
After his service in the Air Force, McKeithen became an officer and worked at the Biloxi Police Department for 24 years. A testament to his selfless nature, Robert was one of 13 officers in the Department honored with the Medal of Valor for his rescue efforts in the aftermath of Hurricane Katrina.
"Robert McKeithen began his career in service to this great nation and ended it in service to south Mississippi. He was a man dedicated to helping others, always ready to lend a hand. He was a man who made his family, state, and nation proud. The memory of Officer Robert McKeithen will live on forever in Biloxi, and in the hearts of every life he touched. I am inspired by his spirit of service and strength of character. A great man and officer was taken too soon, but he will never be forgotten," said Congressman Palazzo.
"The Biloxi Police Department enjoys an excellent relationship with our community, and to name this important building for a fallen Biloxi police officer speaks volumes," said Biloxi Police Chief John Miller. "This is an honor for our entire city, and especially for the McKeithen family."
"What's so fitting about this is that the Post Office building also houses the city's Human Resources Division, and Robert McKeithen, we now know, was one of this community's best human resources. This will be a daily reminder of his dedication to his community and our respect for law enforcement," added Mayor Andrew "FoFo" Gilich.
Officer Robert McKeithen's end of watch was in Biloxi on May 5th, 2019. He was a husband, father, stepfather, and mentor.
The post Bill introduced to rename Biloxi Post Office after fallen officer Robert McKeithen appeared first on SuperTalk Mississippi.