April has been declared as 'Confederate Heritage Month' in Mississippi by way of a proclamation signed by Governor Tate Reeves over a week ago. Now, the Mississippi Legislative Black Caucus is calling for the proclamation to be rescinded. 
The group, consisting of 53 members of the Mississippi Senate, released a statement outlining their belief that the proclamation further divides the state in the midst of heightened racial tensions. 
"Considering the ongoing nationally-televised trial of former police officer Derek Chauvin for the on-camera killing of George Floyd, and as the world still reels from the on-camera, point-blank range shooting death by white police officer Kim Potter of Daunte Wright, a young unarmed black man, it would be in the best interest of peace and harmony to avoid any racial connotations that stir up division and remind us of the evil past—such as the confederacy," the statement attributed to MLBC Chairwoman Senator Angela Turner Ford said.
The language in the proclamation frames the recognition of the month as a way to learn from the state's troubled history. 
"As we honor all who lost their lives in this war, it is important for all Americans to reflect upon our nation's past, to gain insight from our mistakes and successes, and to come to a full understanding that the lessons learned yesterday and today Will carry us through tomorrow if we carefully and earnestly strive to understand and appreciate our heritage and our opportunities which lie before us."
A statement from the governor's office notes that 'Confederate Heritage Month' is a long-standing tradition in the state. 
"For the last 30 years, five Mississippi governors — Republicans and Democrats alike — have signed a proclamation recognizing the statutory state holiday and identifying April as Confederate Heritage Month," Bailey Martin, Governor Reeves' Press Secretary, said. "Governor Reeves also signed the proclamation because he believes we can all learn from our history."
This past year, Mississippi saw the removal of its now-former state flag which featured the controversial confederate battle emblem. This was referenced by the MLBC as they stated confederate symbols should "no longer be a part of Mississippi's image or our government."
The full proclamation, which can be seen below, also notes that the last Monday of April is 'Confederate Memorial Day.'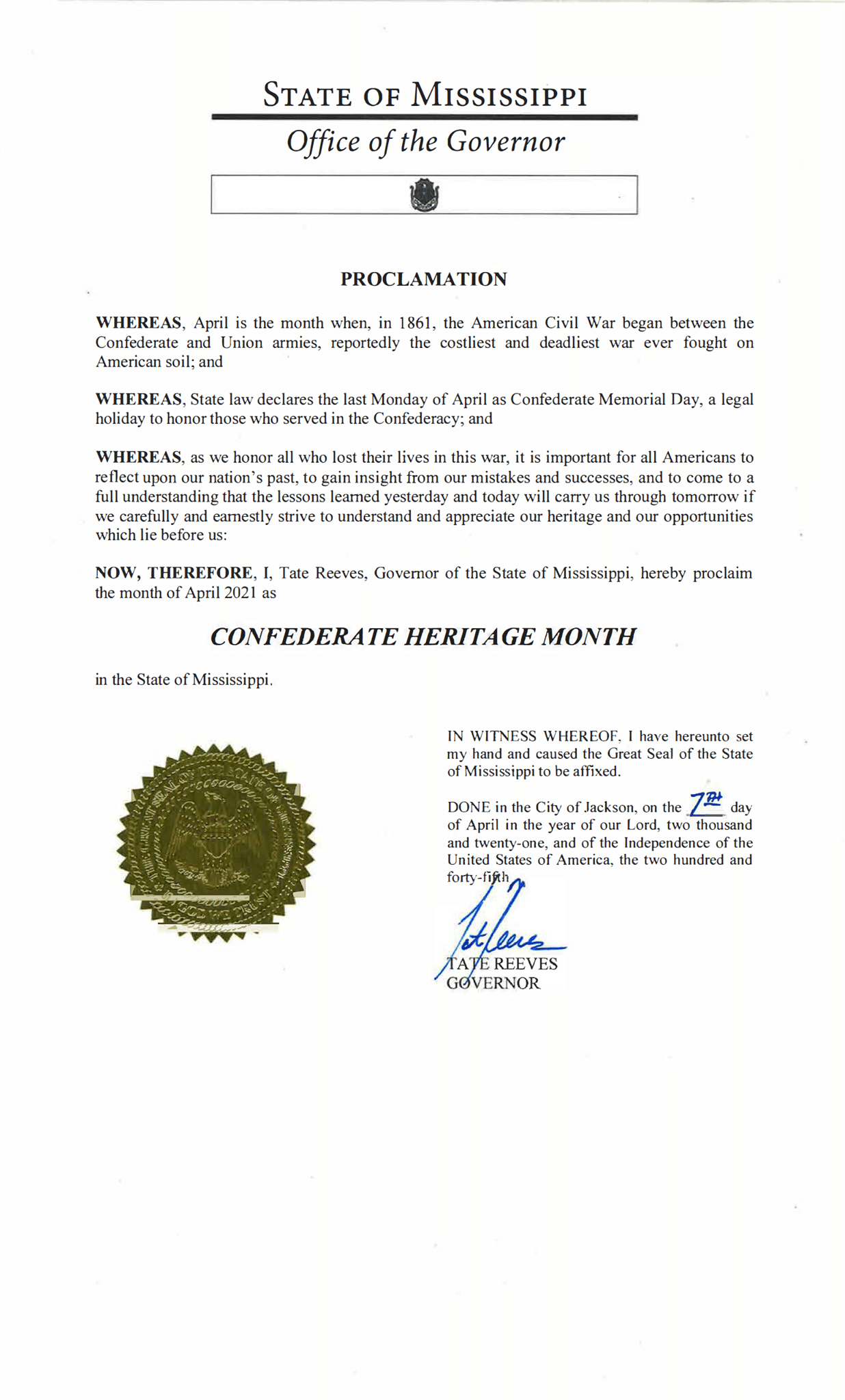 The post Black Caucus calls for governor to rescind 'Confederate Heritage Month' proclamation appeared first on SuperTalk Mississippi.