When the heartbreaking story of Buddy the dog was shared earlier this year, he stole the hearts of thousands.
Buddy was set on fire in Tate County and miraculously survived.  He has been in the loving care of Mississippi State University College of Veterinary Medicine
As you can see in the following update from Tunica Humane Society Shelter Director Sandy Williams, his recovery has been nothing short of a miracle.
---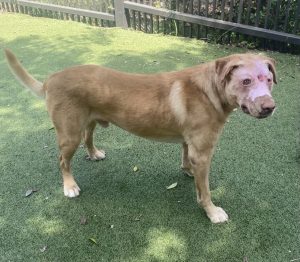 Dr. Swanson and I talk almost daily about Buddy and how his days are spent at Mississippi State. He continues to heal nicely but still has a small area right between his eyes that is being stubborn. She told me there is a possibility that one spot may always be an issue for Buddy, requiring special care. Other than that, his skin grafts look amazing and the speed of his overall recovery has been miraculous.
We are looking at starting Buddy's heartworm treatment very soon. It is our hope to get Buddy into a foster home in the Starkville area, while he goes thru treatment. Dr. Swanson is checking on the possibilities of that with someone very trusted and experienced because his case has to remain very guarded.
We want to keep Buddy as close to Dr. Swanson as possible in case any complications arise during his treatment. But we also want to get Buddy out of the hospital environment so he can begin to experience a normal life again. This precious lab has been in the hospital since his horrific injuries back in April. It's time for him to have a yard and the freedom to lay in the sun for short periods of time more than he can now, still being a patient in the hospital.
Don't get me wrong, Buddy is showered with attention by the staff at Mississippi State. He has more balls to play with than any dog would ever need. He always has a ball in his mouth. Dr. Swanson says he is crazy about balls. He makes a circle around himself with balls. He is constantly getting gifts of new balls?
So the plan is to get Buddy thru heartworm treatment which will take the next couple of months. And they plan to do a few more reconstructive procedures on his eyelids so they continue to get back to as normal as possible.
In the perfect Happy Ending, Buddy will be in a loving forever home by Christmas. That perfect family is still undecided but we know they are out there and our hearts will show us the way when the time is right.
The post "Buddy's recovery has been miraculous" appeared first on SuperTalk Mississippi.