The following was submitted by Central District Public Service Commissioner Brent Bailey
---
In the United States, the average electricity customer experienced just over eight hours of electric power interruptions in 2020. This was nearly 3.5 hours longer than in 2019 and nearly 20 minutes longer than 2017, the last year to get close to 8 hours duration of interruptions.
Customers in Alabama, Iowa, Connecticut, Oklahoma, and Louisiana experienced the most time with interrupted power in 2020, ranging from almost 29 hours in Alabama to 60 hours in Louisiana. Mississippi customers were close behind Alabama with 25 hours of interrupted power. On the other end of the spectrum, electricity customers in the District of Columbia, Arizona, Nevada, North Dakota, and South Dakota had the shortest total time of electricity interruptions in 2020, ranging from 44 minutes in the District of Columbia to 101 minutes in South Dakota.
Major weather events were largely responsible for the long duration interruptions in electric service. Hurricanes and tropical storms impacted Louisiana, Alabama, and Connecticut. Straight line winds (a derecho) impacted Iowa and an ice storm smacked Oklahoma.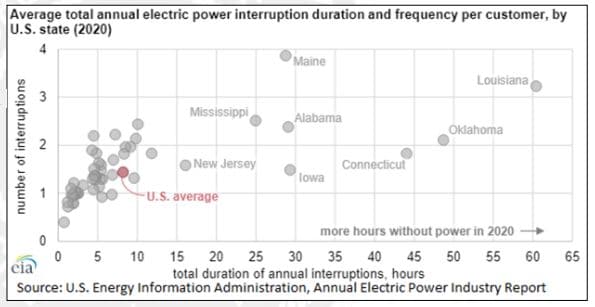 The frequency of power interruptions also contributes to the total duration of outage time. Maine, a heavily forested state, saw the highest average number of power interruptions per customer, followed by Louisiana and Mississippi. Different factors cause power interruptions, including weather, vegetation, and utility practices. 2021 so far has seen another round of extreme winter weather, major hurricanes, extensive wildfires, and supply chain disruptions. It will be interesting to see how 2021 stacks up against 2020.
The Mississippi Public Service Commission will continue to monitor how utilities spend their revenues to increase the efficiency, reliability, resilience, and security of the U.S. power grid. Prudent investments in electric wires, poles, towers, smart technologies, and more are needed to replace aging equipment, improve system performance, and accommodate new generation resources.
The post Central District PSC Brent Bailey says duration of power outages increased in 2020 appeared first on SuperTalk Mississippi.