House Bill 20, which would enact Cole's Law, has passed both the Mississippi House and Senate and now awaits the signature of Governor Tate Reeves.
The bill was voted unanimously in both chambers, with the House-proposed bill passing in the Senate yesterday.
If signed by Reeves, Cole's Law would prohibit healthcare providers from discriminating against individuals with disabilities who are in need of an organ transplant.
The law was first introduced and referred to the Committee on House Public Health and Human Services in January 2022 after inspiration from the Sims family. The Sims family has a four-year-old son named Cole who has down syndrome.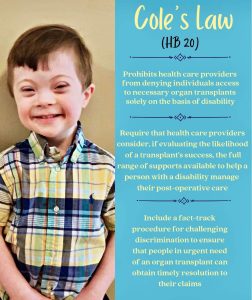 Despite not needing a transplant for their son, the family wishes for others with disabilities to have access to organ transplants without discrimination from healthcare providers.
Cole's mother, Cara, joined us earlier this month: "When a parent is told that their child does not qualify because of their disability, it's heartbreaking."
Representative Lee Yancey aided in the bill's passing and explained that the passing of the bill is a preemptive step to ensuring equal treatment for those with disabilities.
"What we have here is that this has happened in other states, and we want to make sure it doesn't happen in our state," Yancey explained in an interview.
Now that the law has passed through the House and Senate, the governor has five days to decide whether to sign the bill or not.
The post Cole's Law heading to Mississippi governor's desk appeared first on SuperTalk Mississippi.