COVID-19 numbers continue to dwindle in Mississippi as the Omicron spike has plummeted.
On Thursday, the Mississippi State Department of Health (MSDH) confirmed 370 new cases of COVID-19.
Thursday's report brings the state's total number of cases to 790,986. With the confirmation of nine additional deaths, 12,124 Mississippians have passed away from the virus. Also according to the report, there are 73 ongoing outbreaks in long-term care facilities.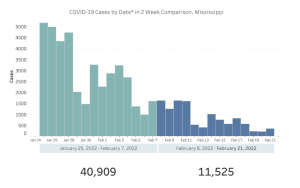 Regarding hospitalizations, 308 with confirmed infection were hospitalized as of Tuesday, which is a dramatic decrease from February 9 when 984 hospitalizations were reported by MSDH.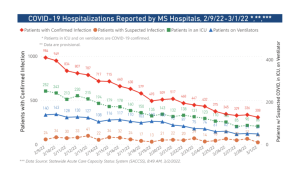 Currently, 1,518,309 Mississippi residents are fully vaccinated. To view the full MSDH report from Thursday, click here.
The post COVID-19 numbers down as Omicron spike plummets appeared first on SuperTalk Mississippi.