Delta State University alumnus David Abney ('76), former chairman and CEO of United Parcel Service (UPS), will be among those honored during the historic first broadcast of the Georgia Trustees Gala on Saturday, June 5.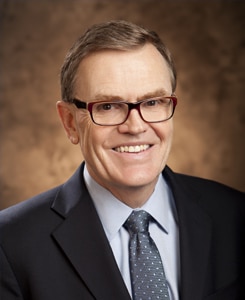 During the gala, Abney will be inducted by Georgia Governor Brian Kemp and the Georgia Historical Society as a modern-day Georgia Trustee—the highest honor the State of Georgia can confer.
A native of Greenwood, Abney began his UPS career in 1974 as a part-time package loader while attending Delta State, where he would earn a bachelor's degree in business administration.
Abney and his wife, Sherry, have remained staunch supporters of the University and have sponsored Delta State's annual International Business Symposium since its inception.
"The Delta State family is thrilled that one of our own, David Abney, will receive the highest honor from the State of Georgia," said Delta State President William N. LaForge. "David is most deserving of this honor and serves as a shining example of the impact Delta State graduates are having across the globe. We appreciate his continued engagement with our campus over the years—especially his sponsorship of our International Business Symposium, and we know that he will serve in his new role as a Georgia trustee with great distinction."
Abney is the former executive chairman of the UPS Board of Directors. He served as CEO of UPS from 2014 until May 2020 and was appointed chairman of the board in 2016. Before his role as chairman and CEO, Abney served as the company's chief operating officer, overseeing logistics, sustainability, engineering, and all facets of UPS's global transportation network.
Abney will be inducted along with Juanita Baranco, the executive vice president and COO of Baranco Automotive Group.
The Trustees Gala is the Georgia Historical Society's premier annual event and the culmination of the Georgia History Festival, GHS's annual K-12 educational program that reaches over 250,000 students statewide. With ongoing concerns about holding large in-person events this spring, GHS decided to transition the 2021 Trustees Gala, normally an in-person event—with over 500 guests from across the state in attendance, to a televised, broadcast event.
"To be named a Georgia Trustee is the highest honor the State of Georgia can confer, and we are excited to bring this incredible event and the induction of David Abney, former CEO of UPS, and Juanita Baranco, the executive vice president and COO of Baranco Automotive Group, to the people of Georgia in a way that we have never done before," said Patricia Meagher, director of communications for the Georgia Historical Society.
In 2008, the Georgia Historical Society, in conjunction with the Office of the Governor, reestablished the Georgia Trustees as a way of recognizing modern-day Georgians whose accomplishments and community service reflect the highest ideals of the founding body of Trustees. The original Georgia Trustees, a governing body chartered and appointed by His Majesty King George II of England in 1732 to establish a new colony in North America, founded Georgia upon the principle of?Non Sibi, Sed Aliis, "Not for Self, but for Others."
The 2021 Georgia History Festival is made possible with support from Georgia Power, Delta Air Lines, UPS, The Home Depot Foundation and Gulfstream. For a full list of sponsors, visit georgiahistoryfestival.org.
Tune in to Georgia Trustees Gala live at 7 p.m. CST/8 p.m. EST Saturday, June 5, from anywhere on the GHS YouTube channel (GAHistoricalSociety).
The post Delta State alumnus & former UPS CEO to receive Georgia's highest honor appeared first on SuperTalk Mississippi.