Desperation.  That's the word to describe what hospitals across the state are feeling as the number of COVID-19 patients continue to pour in their doors.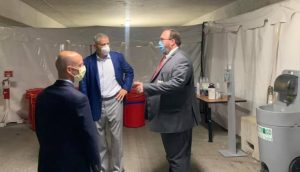 Speaker of the House, Philip Gunn, has read the stories and heard the conspiracy theories, but wanted to see it for himself.  He spent time talking to hospital CEO's and administrators, then toured several of the state's largest healthcare facilities to see first-hand what doctors, nurses, and patients are going through.
Gunn shared his experience with Ricky Mathews, host of Coast Vue on SuperTalk Mississippi.
He said, "I've heard a lot of people say different things, a lot of different opinions – everybody's got one, so I wanted to see for myself. What are the facts? I think that's the best thing we can do is operate on the facts."
As he visited the hospitals, Gunn said what he saw was grim. "It is very compelling, when you get on the ground.  Every ICU – UMMC, Forrest General, Gulfport, Singing River – they're maxed out. Keep in mind, not all of that is COVID.  There's heart attacks, car wreck victims, but over half is COVID."
At one of the hospitals he visited, people were sitting in the yard outside the emergency room, trying to get into the shade because of the heat. Gunn said, "An entire floor of another hospital has been turned into an area for COVID patients waiting for ICU beds."  At another hospital, Gunn said, people waited in the halls.  "They were on gurneys, in the hall, waiting for a spot to put them."
Gunn said, he's not giving an opinion, he's simply laying out the facts. "I'm telling you what I saw." Gunn said he asked the hospitals, of the COVID patients who are hospitalized, how many are unvaccinated? "86 to 90-percent of the people who are hospitalized, are not vaccinated.  I'm no medical professional, and all I can do is convey what the doctors are telling us, but the vaccine is the best tool we've got. Tomorrow we may have a cure, but as you and I sit here today, the best tool we've got is the vaccine.  That's all the Lord has given us. The Lord has given us medical professionals, and He's given us people who are smart – this is the best we've got."
While at Forrest General Hospital in Hattiesburg, Gunn learned an interesting statistic. "During the first wave of COVID-19, the average age of those hospitalized at Forrest General was 57-years-old.  This second wave, it's 35-years-old. So it seems, there's a younger crowd that is struggling with it."
He also learned of a young mother, infected with COVID, who gave birth. Gunn said, "They did not want the baby exposed to the mother, so they FaceTimed with the mother.  Within a few hours, the mother passed away.  She was 27."
"It's real and we've got to operate on facts," said Gunn. "I know people are accusing me of trying to be an alarmist.  Hey, I'm just passing on the information.  It's facts and data.  Not opinion."
You can watch and listen to the full interview with Speaker Gunn on Monday at 9 a.m. on Coast Vue with Ricky Mathews, at supertalk.fm
The post Desperation in MS Hospitals: Speaker Gunn said, "I had to see it for myself." appeared first on SuperTalk Mississippi.