In the best quote of the week category, the winner is Mississippi Congressman Michael Guest (and Colin Powell).
While discussing the crisis on the border, Mississippi Congressman Michael Guest, a member of the House Homeland Security Committee, addressed new Homeland Security Secretary Alejandro Mayorkas and questioned the Biden Administrations' actions thus far.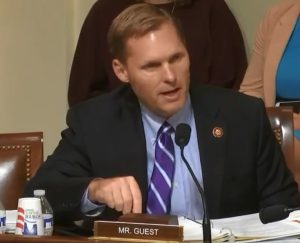 In his closing statement Guest said, "In less than sixty days they have completely destroyed successful policies by the Trump Administration. Former Secretary of State Colin Powell had what he referred to as the Pottery Barn Rule. You break it. You own it."
Click here to hear the full statement by Congressman Guest.
This unfolded during a Committee on Homeland Security meeting Wednesday to examine "The Way Forward on Homeland Security."
Congressman Bennie Thompson of Mississippi, Chairman of the Committee, opened the meeting by saying, "For years, President Trump left DHS without a lawfully appointed, confirmed Secretary and kept critical positions vacant so he could exploit the Department for political gain. I am pleased that President Biden has made some key nominations and look forward to competent, Senate-confirmed leadership now that Secretary Mayorkas has been sworn in and the Administration is moving forward with filling leadership positions across the Department."
Thompson continued by saying, "Just as President Trump made DHS less able to carry out its mission, his failed policies also made the homeland less secure. He downplayed the threat of COVID-19 despite the warnings of doctors and scientists, left states to fend for themselves to obtain testing supplies and PPE, and failed to implement a national vaccine distribution plan.  He sided with Putin and Russia over our own intelligence community even though our adversary meddled in our elections and hacked into our computer systems. And, he helped fuel the rise of domestic terrorism in America and incited right-wing violent extremists to attack the U.S. Capitol."
Click here to watch the rest of Congressman Thompson's opening statements and to watch and hear the remainder of the Committee meeting.
The post Does the "Pottery Barn Rule" apply on Capitol Hill? appeared first on SuperTalk Mississippi.