The United States House of Representatives overwhelmingly passed the Emmett Till Antilynching Act by a vote of 422-3 on Monday night.
H.R. 55, named after the fourteen-year-old who was horrifically murdered in Mississippi in 1955, would designate lynching as a federal hate crime with a maximum sentence of 30 years.
Rep. Bobby Rush (D-Ill.) introduced the Emmett Till Antilynching Act on the first day of the 117th Congress and has worked closely with both chambers to reach an agreement on the bill's text.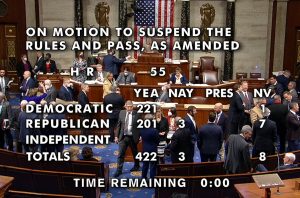 "Today is a day of enormous consequence for our nation," Rush said. "By passing my Emmett Till Antilynching Act, the House has sent a resounding message that our nation is finally reckoning with one of the darkest and most horrific periods of our history, and that we are morally and legally committed to changing course."
All four of Mississippi's representatives—Congressmen Michael Guest, Trent Kelly, Steven Palazzo, and Bennie Thompson—voted in favor of the bill. Thompson was also a cosponsor.
Today, I will be voting for the Emmett Till #AntilynchingAct. This bill will finally make lynching a federal hate crime. pic.twitter.com/ZwgaFnbfc1

— Bennie G. Thompson (@BennieGThompson) February 28, 2022
The three nays came from GOP Reps. Andrew Clyde (Ga.), Thomas Massie (Ky.), and Chip Roy (Texas).
The Emmett Till Antilynching Act will now head to the Senate, where it is expected to see a similar amount of support.
The post Emmett Till Antilynching Act passes U.S. House of Representatives appeared first on SuperTalk Mississippi.