You probably remember the story of Buddy, the dog who was set on fire earlier this year in Tate County and miraculously survived.  He has been in the care of Mississippi State University College of Veterinary Medicine and his recovery has been phenomenal.
On Saturday, the Tunica Humane Society shared an update on Buddy and it was such welcome news following the horrific ordeal he suffered.  We're still pulling for Buddy, his recovery, and so happy to see his spirit has not wavered.
The update from the Tunica Humane Society is shared below:
---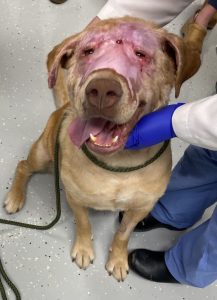 Close your eyes and imagine today thru the eyes of this sweet yellow lab. Buddy's last real memory of vision was in the final horrific moments just before his face was set on fire by a child. In the blink of an eye, this dog's whole life changed.
Because of the severity of his injuries, Buddy has spent the last 3 and a half months in total darkness due to the bandages to protect his wounds.
It has been a very big day for Buddy and his extraordinary caregivers at Mississippi State College of Veterinary Medicine.
For the first time, Buddy's bandages were changed without him being heavily sedated. His eyes were actually open and he was very aware. This photo captures that very moment for all of Buddy's Prayer Warriors and for all our supporters that donated so generously to his care.
It was important to me that our Tunica Humane Society family be the first to see Buddy's miraculous healing. If you had seen what I have seen over the last few months, crying myself to sleep many nights, you would truly understand how far Buddy has come in his journey back to life. How beautiful he looks today.
In answer to your thousands and thousands of prayers, YES, Buddy can still see.
As Dr. Swanson described to me the moment Buddy gazed into her eyes for the first time, the moment he immediately jumped up on his caregivers to thank them for saving him… I was completely overcome with emotion and gratitude for all that was done to save him from the horrible abuse he endured.
Buddy still needs some work on his eyelids, so that they blink properly and will better protect his eyes. And he is still healing in many ways. He will continue to stay at Mississippi State under Dr. Swanson's care until we are comfortable bringing him back to the Tunica Humane Society.
But today was a huge turning point for this precious yellow lab. He can see again and his heart is happy. And our hearts are rejoicing for him.
The post Great news for Buddy the dog: Out of the Darkness, Into the Light appeared first on SuperTalk Mississippi.