Mississippi's healthcare system continues to be stretched thin as the latest wave of the pandemic, fueled by the Delta variant, causes rising case numbers and hospitalizations. 
Along with a 3-day total of nearly 7,000 new cases of COVID-19, it was reported that, as of this morning, there were no available ICU beds across the entire state. 
Dr. LouAnn Woodward, UMMC's COVID-19 incident commander, detailed the situation on Twitter. 
There were ZERO available ICU beds in Mississippi as of early this morning. None. That means hospitals across the state may not be able to provide the level of care needed to you or your loved one. Not just for COVID-19 but FOR ANY EMERGENCY CARE," she posted in a thread of tweets. 
State Health Officer Dr. Thomas Dobbs also noted that 200 patients were waiting in Mississippi ERs for a room.
Health officials continue to stress that an overwhelming majority of new cases, hospitalizations and deaths are among the unvaccinated.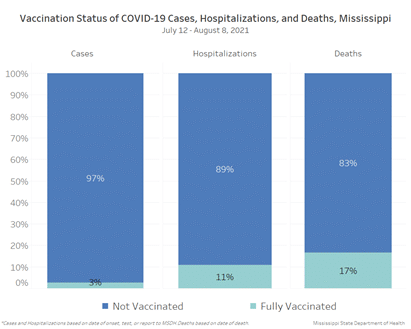 There has been an uptick in vaccinations in Mississippi in recent weeks, but overall, the state's vaccination remains among the lowest in the county at just over 35%.
The post Health officials report zero available ICU beds in Mississippi appeared first on SuperTalk Mississippi.