Providing more details on the impact of COVID-19 among pregnant women, Mississippi's top health experts shared today that a total of 15 pregnant women have passed away from the virus throughout the pandemic.
The Department of Health confirmed that, since the beginning of the pandemic, 15 expecting mothers have passed away from COVID-19. This includes eight since the end of July. State Health Officer Dr. Thomas Dobbs shared that the median age of these women is 30-years-old, none were fully vaccinated and they shared the underlying condition of being overweight. More than half of the recent maternal deaths were among African American women.
At the University of Mississippi Medical Center, there have been 372 COVID-19-related admissions among pregnant women since April 2020. 30 women have ended up in the ICU with 16 being placed on a ventilator and 12 have passed away, according to Dr. Martin Tucker, Professor and Chair of UMMC's Department of Obstetrics. Five of the deaths have occurred since the beginning of the Delta surge.
Dr. Tucker stated that each of the 12 babies did survive, however, some remain in the ICU after being born "severely premature."
Additionally, Dr. Dobbs stressed the tragedy of these deaths and explained that they were preventable with vaccination. Overall, 72 fetal deaths have been associated with COVID-19 in pregnant women—2x the background rate of what would be expected.
The health experts continue to stress that the vaccine is highly recommended for pregnant women by the MSDH, the CDC, the Society for Maternal-Fetal Medicine and the American College of OBGYNs. Dr. Tucker further clarified that because the vaccine is not a 'live-virus vaccine,' it is scientifically impossible for it to pass through to the baby.
Nationwide, just 24% of pregnant patients are vaccinated against COVID-19, according to Dr. Tucker.
For Mississippi as a whole, State Epidemiologist Dr. Paul Byers warned that "we are still in the thick" of the pandemic. Despite several indicators dropping following recent peaks, Dr. Byers expressed that cases and hospitalizations remain above the peak of the winter surge.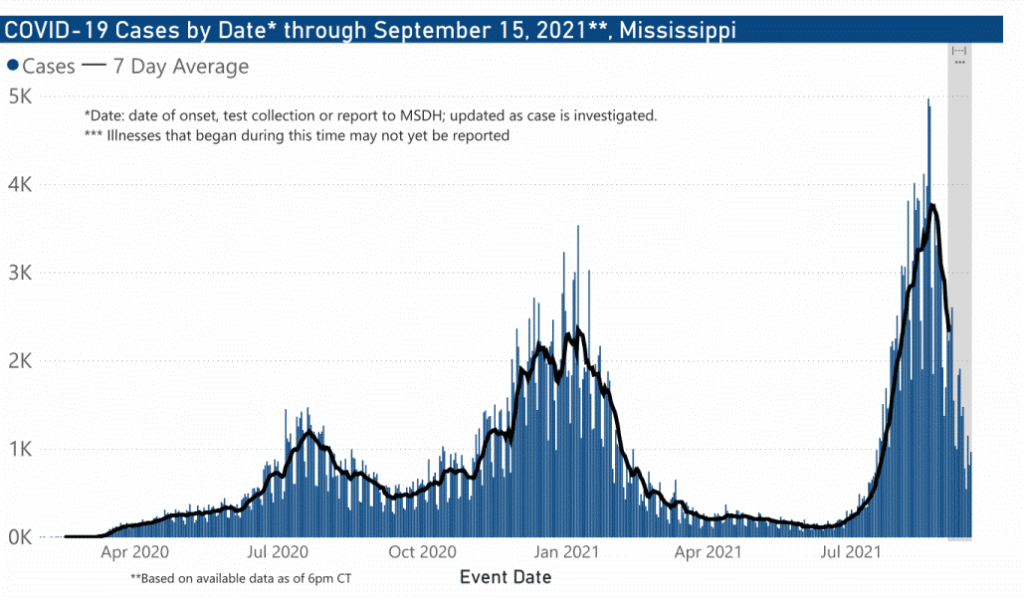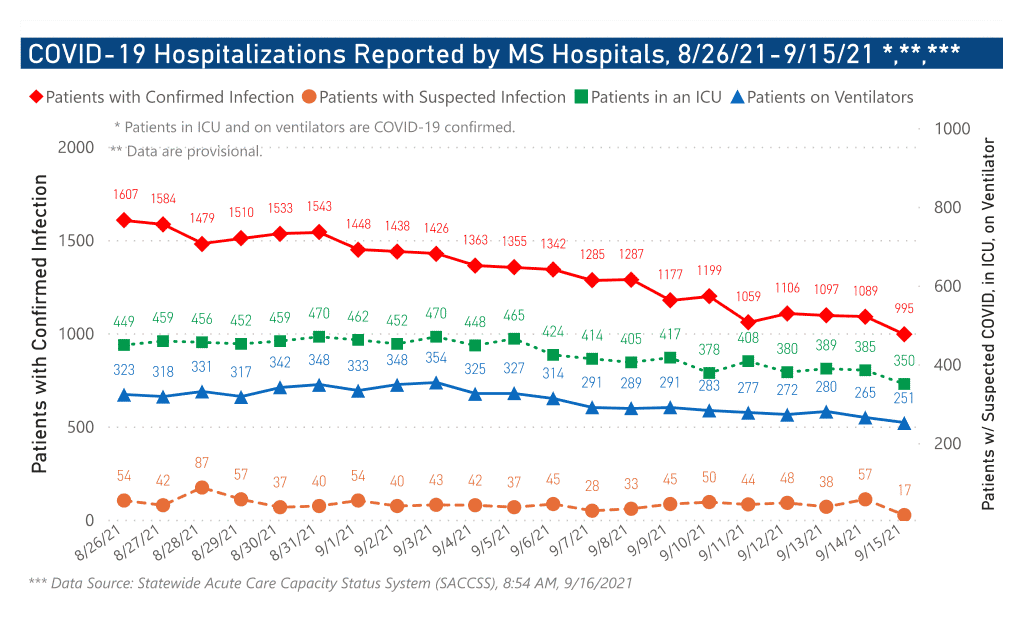 Deaths remain elevated after a record number of cases were reported in August. Pediatric hospitalizations are declining with the latest report including zero children under the age of 18 in the ICU or on a ventilator.
Mississippi's vaccination rate has increased to 41.7% in recent weeks and now ranks above Alabama, Idaho, Wyoming and West Virginia.
Dr. Dobbs also stated that Mississippi has become a leader in the administration of the monoclonal antibody treatment that has been shown to greatly reduce the risk of hospitalization. In all, nearly 250 clinics across the state offer the treatment.
When available, we will add the MSDH's full press briefing below.
The post Health officials stress safety of vaccines for pregnant women appeared first on SuperTalk Mississippi.