On Thursday, the Mississippi House of Representatives passed a plan to redraw the state's four congressional districts.
With a vote of 76-42 in favor of Republicans, Congressman Bennie Thompson's District 2 will drastically expand in geographical range, taking over the entire southwest corner of the state.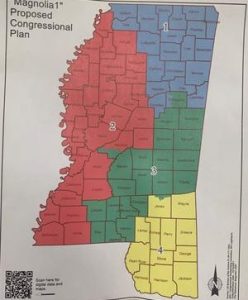 The reason lawmakers have been tasked with redrawing the four districts is due to a 9.8 percent population decrease in District 2 since the 2010 census. In order to comply with federal stipulations, a state's congressional districts must contain nearly equal populations.
House Democrats offered an amendment that would have added all of Hinds County and a portion of Madison County to District 2, providing the 70,000 people needed by Thompson.
"Efforts to make CD2…as compact as possible by adding all of Hinds County and a portion of Madison County, were not ever considered or debated within the joint redistricting process," House Minority Leader Robert Johnson said in a statement. "If this map passes, it will make it virtually impossible for anyone to effectively and efficiently represent the 2nd district."
When asked if the proposed map—which would extend the length of District 2 by about 60 miles—is fair, Speaker of the House Philip Gunn answered "absolutely."
"I think our team has done a fantastic job of drawing a map. Given the parameters they had to comply with, they have done a fantastic job. I support the plan they have done," he said on Tuesday.
The Senate is slated to vote on the bill next week.
The post House approves redistricting plan that expands District 2 appeared first on SuperTalk Mississippi.