Both a teacher pay raise and the elimination of income tax are expected to be brought up in the House of Representatives on Wednesday.
In an interview this morning, Representative Tom Miles told SuperTalk Mississippi News that "it's going to be a historic day in the legislature."
"This is going to be a great day for our state," the representative for the 75th district said. "These are two great pieces of legislation that we think will put our state in a good position to move forward in a lot of ways."
On Tuesday, the House Appropriations Committee responded to the Senate's teacher pay raise proposal with one of its own that would increase all teachers from $4,000 to $6,000 per year. The raise would skyrocket Mississippi's starting pay for teachers above the southeastern United States average of $39,754.
The "START Act of 2022" will alter the starting pay for teachers in Mississippi to $43,125. The state's current starting pay is $37,000. The bill will also include a $2,000 raise for teacher assistants, something that is not included in the Senate's current proposal.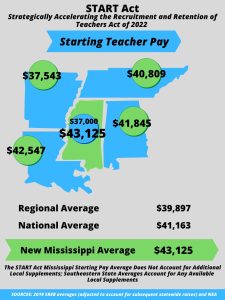 On the other hand, the "Mississippi Tax Freedom Act of 2022" has made it out of the House Ways and Means Committee and will phase out the state's income tax over six years, beginning in July of 2022.
The bill would raise sales tax from 7 percent to 8.5 percent, while reducing grocery tax from 7 percent to 4 percent. The price of car tags will also be reduced by 35 percent.
"What this plan does is…if you make $40,000 a year, it's going to put $1,300 a year in your pocket," Miles explained. "If you're a family—a husband and a wife making $80,000 a year—it's going to put $2,600 a year in your pocket."
Governor Tate Reeves previously said that the elimination of the state income tax will make Mississippi more competitive with the likes of Tennessee, Texas, and Florida. Lt. Governor Delbert Hosemann, who presides over the Senate, is also in favor of a form of tax reduction.
The House gavels in at 2 p.m. on Wednesday.
The post House expected to vote on teacher pay raise and elimination of income tax appeared first on SuperTalk Mississippi.