Image above: Kevin King, a flight nurse on AirCare 1, checks the aircraft following its return to an MCES hangar after delivering a patient to the helipad atop the Wallace Conerly Hospital for Critical Care.
---
No matter the disaster or mass casualty, the Mississippi Center for Emergency Services at the University of Mississippi Medical Center stands prepared for the worst, but hopes for the best.
And as hurricane season ramps up, MCES' emergency response and communication experts are reviewing their longstanding game plans, being proactive and not reactive, said Dr. Jonathan Wilson, UMMC's chief administrative officer.
The National Oceanic and Atmospheric Administration predicts a 60 percent chance of an above-normal Atlantic hurricane season, a 30 percent chance of a near-normal season, and a 10 percent chance of a below-normal season.
It's called Atlantic, but it certainly includes storms that enter the Gulf of Mexico.
"Our plans are solid. We have teams trained to respond to anything from a mass casualty to a hospital taking a major hit," said Wilson, a veteran emergency and critical care nurse who was a part of the makeshift UMMC response team that was one of the first "boots on the ground" responders to the devastation wrought by Hurricane Katrina in 2005.
"We go back to our basic plan for hurricane response, send teams to the scene to start triaging and treating patients, while coordinating our efforts with the local and state responders, all while MED-COM is coordinating disaster-related patient movement for the state," Wilson said.
Sounds simple?
Far from it.
MCES was created in the wake of Katrina, which saw profound death and destruction along the Mississippi Gulf Coast, but little means for first responders to communicate by phone or radio. That disaster exposed the absence of a statewide emergency communication system, potentially paralyzing deployment of medical teams and equipment and the ability of first responders to efficiently coordinate rescues with delivery of medical care.
"A response to an emergency requires people working together, and a centralized view of the medical situation," said Dr. Kendall McKenzie, professor and chair of emergency medicine and executive medical director of MCES. "That's what the state has now, and didn't have during Katrina."
That vulnerability played out when McKenzie, Wilson and a small UMMC team arrived in Hancock County in the immediate aftermath of Katrina. Their mission to assess damages quickly turned into a more urgent need: Treating patients as they walked up on them.
Wilson remembers constructing a splint for an injured resident out of wooden debris from a house, and the frustration of having the knowledge and training to respond, but being hamstrung by a lack of equipment and support and the inability to have basic communication that responders today take for granted.
Those lessons led to MCES' creation as the statewide leader for medical response in large-scale disasters, and to the state of Mississippi developing the Mississippi Wireless Information Network, or MSWIN, a public safety, digital radio system to provide reliable communication under extreme conditions such as hurricanes and tornados.
MCES takes a leading role in hurricanes or any disaster, coordinating the state's critical care transport and emergency medical response, from treating the injured in the field to determining what hospitals are operational, whether they can take patients and what kind, and if not, where and how patients should be transported depending on ambulance availability and severity of injuries or illness.
The communications brain at MCES is Mississippi MED-COM, a state-of-the-art center staffed 24/7 by experienced communications specialists in addition to MCES veteran emergency response managers. They perform myriad functions during disasters, including coordinating the deployment of AirCare, UMMC's medical helicopter transport, keeping up with hospital bed availability statewide, routing ambulances and more.
With bases in Greenwood, Columbus, Meridian and Jackson, AirCare flies to the state's far corners. The crews of AirCare, the state's most sophisticated medical air transport, consist of highly trained and experienced flight nurses and critical care paramedics.
When Katrina struck, 238 Mississippians died and hundreds were injured.  AirCare was a fleet of one, compared to four primary helicopters and one backup helicopter today.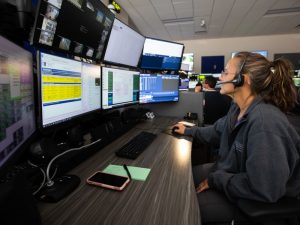 Readiness for a hurricane is MCES' day-to-day standard. "We will obviously be constantly adjusting," said Jeremy Benson, MCES emergency transport manager. "If we have bad weather approaching, a notification goes out to staff that shift times might be lengthened, or we might ask the next crew to come in early. Our normal job has to happen also, so we might need to call in additional crew members at each AirCare base."
MCES works hand-in-hand with local agencies and swiftly sends multiple two-person Forward Assessment and Scene Triage, or FAST, teams to the site, said Stephen Houck, MCES clinical director. "AirCare FAST teams assess the site, triage the injured and evaluate how bad the area is. If its hospital is still functional, they assess its medical and equipment needs."
FAST teams deploy via air or ground, depending on conditions, Benson said.  If by ground, MCES will send one or more of its Ford Explorer "sprint" SUVs. "It has all the equipment we have in our helicopter. We just move it from AirCare to the back of the vehicle," he said.
Once that crew arrives, what they walk up on can shape the mission. "We might be getting into an ambulance and providing critical care on the way to the hospital," Benson said.
FAST teams are "a Mississippi-grown concept going all the way back to Katrina," Wilson said. "This is where we can have a big impact with our current resources and personnel."
MCES also coordinates with the Mississippi State Department of Health and the Mississippi Emergency Management Agency. Those agencies are responsible for functions such as interagency communication and providing local emergency responders and hospitals with equipment and other resources.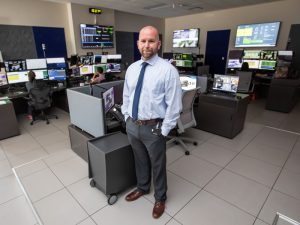 "We are the initial point of contact, and we relay information to the Department of Health and local emergency management so that they can get resources to hospitals and responders," Houck said.
Many of those must-haves are kept year-round in a huge hangar at Jackson's airport: a fully functional 18-wheeler-turned mobile field hospital to replace a damaged or destroyed facility. Generators. Clinical equipment. Other large and small trailers for staging and supporting responders.
Medical supplies. Stretchers and backboards.
"In a true mass casualty incident, the resources of local agencies are outstretched. They call us and say they need our help," Houck said. "We have everything a hospital would need in order to function, and we push it into the field."
The field hospital, which includes operating room space, set up in Louisville in 2014 after tornadoes ripped through the state, heavily damaging Winston County Medical Center and rendering it unable to care for patients.
MCES deployed several FAST teams, supported local EMS and coordinated with MED-COM to triage patients to nearby hospitals. The weather initially kept AirCare from flying, so the FAST teams made it to Louisville by ground. UMMC coordinated with the Department of Health to deploy an eight-bed hospital inside an advanced 18-wheeler trailer. "Now, we have experience setting up mobile hospitals, which we didn't with Katrina," McKenzie said.
Over that first 24 hours, FAST teams evacuated more than 100 patients and sent another 37 to various hospitals, the most critically ill coming to UMMC. "We became the county's emergency room from the Walmart parking lot," Wilson said.
MCES is keenly aware that when a hurricane looms or a tornado strikes, other medical emergencies continue.
"We sent out every helicopter we had to the hayride accident in Chunky," Wilson said. "But heart attacks and strokes will continue in other parts of the state. Sometimes, we have to make some tough calls. You have to do the best you can with the resources you can access."
MED-COM communications specialist Jean Dobbs was working when the Winston County tornado occurred and when a tornado ripped through Yazoo City in 2010, killing 10 and injuring dozens.
During a mass casualty event, Dobbs puts on the hat of a communications disaster manager, something she's done at UMMC for 15 years using her 20 years of paramedic training. She focuses solely on the disaster at hand, relaying information during conversations with emergency responders, ambulances, MCES staff in the field, AirCare, state agency disaster responders and more.
That day in Yazoo City, "we sent out the FAST team by helicopter, and the hospital called in when they lost their resources," including power and the ability to operate ventilator, dialysis machines and other life-sustaining equipment, Dobbs said.
Despite the intensity of MED-COM's response, Dobbs wasn't stressed. "It was touch and go for a while," she said of getting help to Yazoo City as quickly as possible.
What a difference 15 years has made in the Medical Center's capability to get care to patients, when and where they need it.
"We have our pediatric and neonatal transport teams. We have our own ground advanced ambulances for critical care transport," Wilson said. "We have not just four helicopters, but ground transport for disaster responses. We have four times the clinical staff since Katrina.
"We have the same operational philosophy for a hurricane as we do for any disaster: forward-leaning care, and getting the expertise of the Medical Center pushed out to the scene."
---
Story by Ruth Cummins, University of Mississippi Medical Center
The post Hurricane on the horizon? MS Center for Emergency Services & AirCare stand ready appeared first on SuperTalk Mississippi.