Radar image courtesy of AccuWeather
Just as forecasters predicted, Ida has rapidly intensified to become a Category 4 hurricane with maximum sustained winds of 150 mph. 
Ida remains on track to make landfall along the Louisiana Coast later this afternoon before making its way into Mississippi, however, portions of Mississippi will feel the storm's effects well before the eye of the storm enters the state.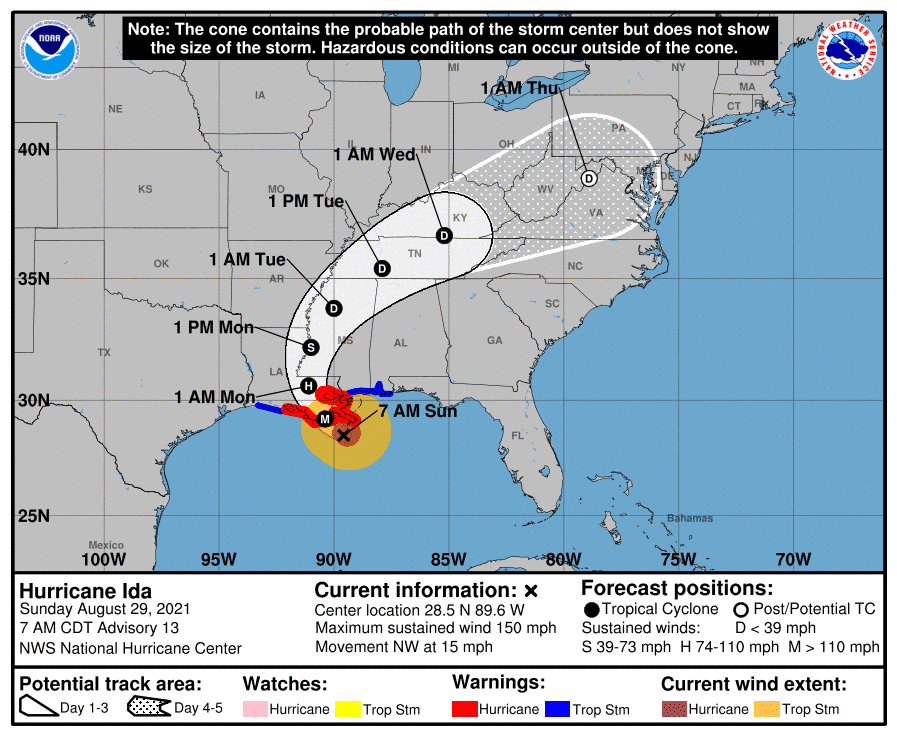 The latest update from the National Hurricane Center indicates that storm surges along the Mississippi Gulf Coast could be between 6-9 feet from Bay St. Louis to Ocean Springs and between 4-7 feet from there to the Alabama border. 
Rainfall totals will also be a concern. Total rainfall accumulations of 10 to 18 inches with isolated maximum amounts of 24 inches are possible across Southeast Louisiana into far South Mississippi through Monday. This is likely to result in life-threatening flash and urban flooding and significant riverine flooding impacts.
Central Mississippi could experience 4-8 inches of rain with isolated maximum amounts of 12 inches, tonight through Monday night.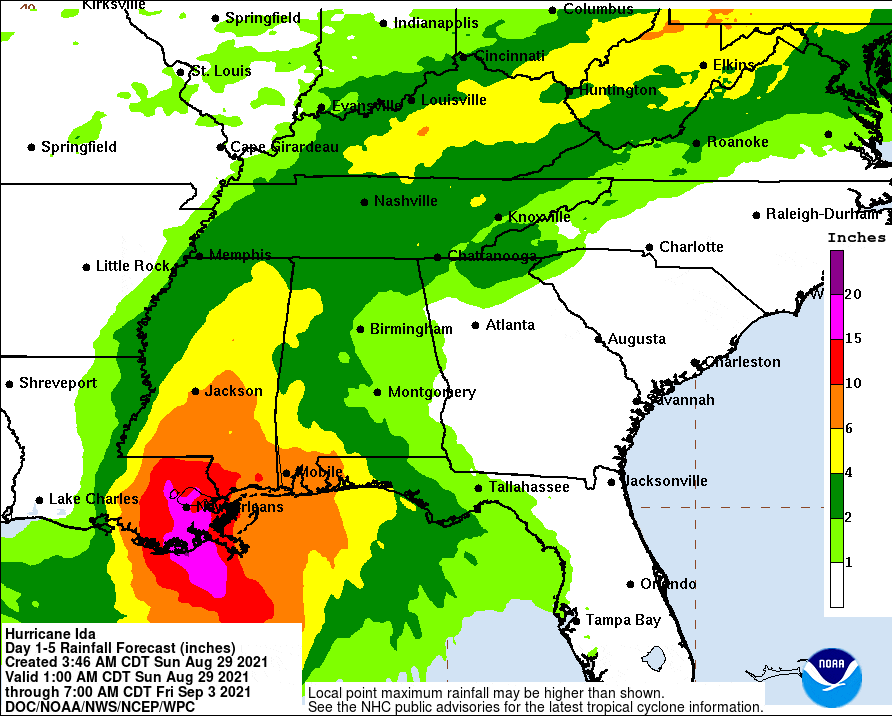 Along with the threat of Ida, tornadoes are also possible from southeast Louisiana across southeast  Mississippi and southwest Alabama to the western Florida Panhandle.
Make sure you have your 3-5 day disaster supply kit ready as power outages are likely when the storm makes landfall.
For a list of open shelters, click here. Masks will be required in shelters. 
Saturday, Governor Tate Reeves declared a state of emergency, and this morning, President Biden approved an emergency disaster declaration for the state. Specifically, FEMA is authorized to identify, mobilize and provide at its discretion, the equipment and resources necessary to alleviate the impacts of the emergency.  Emergency protective measures, including direct federal assistance and reimbursement for mass care, including evacuation and shelter support, will be provided at 75% federal funding. 
This assistance is for Adams, Amite, Covington, Forrest, Franklin, George, Greene, Hancock, Harrison, Jackson, Jefferson, Jefferson Davis, Jones, Lamar, Lawrence, Lincoln, Marion, Pearl River, Perry, Pike, Stone, Walthall, Wayne and Wilkinson counties and the Mississippi Band of Choctaw Indians.
Power companies in Mississippi, like Entergy, Mississippi Power & Atmos, stand ready to restore service once conditions are safe. C Spire technical crews are on call and ready to be deployed to any wireless or fiber facility that experiences service issues or damages from the storm.  The company has recently activated a "real time" cell site status notification system for state officials to use in coordinating emergency response efforts.
The post Ida rapidly intensifies, becomes Category 4 Hurricane ahead of landfall appeared first on SuperTalk Mississippi.