Image above: After receiving her degree, Arron Richardson, Ph.D. escorts Cathy Maberry off stage. (Photo by: Charles A. Smith/University Communications)
---
More than a year ago, Cathy Maberry lost her complete eyesight. Still, she was able to walk across the stage to receive her bachelor's degree in health, physical education and recreation at Jackson State last week. She plans to become a certified therapeutic recreation specialist.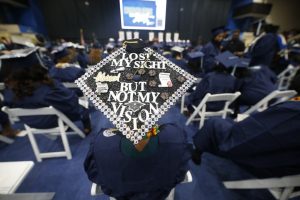 Medical issues caused Maberry to partially lose her sight in 2017. And less than three years later, she went completely blind. In spite of her circumstances, she never lost her vision of walking across the stage. "Jackson State University means so much to me," Maberry said. "I am so grateful for everyone's continuous support. At times, I wanted to give up but with my JSU family, I persevered."
"It is a pleasure to celebrate this milestone with Cathy," said Arron Richardson, Ph.D., assistant director for Disability Services. "Despite challenges and setbacks, she consistently fought her way through trials and emerged victorious."
During her student tenure, Maberry interned at the G.V. (Sonny) Veteran Affairs Medical Center in the Department of Recreation Therapy. From that experience, she discovered her passion for helping others. She aspires to work in the area of rehabilitation assisting individuals who have experienced life-changing situations similar to hers.
"I want people to look at me and know I make the best out of my circumstance," Maberry said. "Jackson State played a vital role in helping me gain the confidence I needed to reach my educational goals."
Additionally, the Jackson, Mississippi, native acknowledges her family, mentors, professors, peers and DeVonda Elliot, Pys.D., for their infinite support.
"Their collaborative efforts resulted in me achieving my goals," said Mayberry. "I became a better student, friend and relative because of my support team."
The new alumna plans to give her time and treasures back to JSU so other students can receive the same help she did.
---
Story by LaToya Hentz-Moore, JSU Communications
The post 'Lost my sight but not my vision': JSU grad's inspiring story appeared first on SuperTalk Mississippi.