This afternoon, the latest round of severe weather is expected to arrive in Mississippi, potentially affecting a large portion of the state.†
The National Weather Service warns that the storms could produce damaging winds between 70-80 mph, baseball-sized hail and flash flooding. The threat of tornadoes also cannot be ruled out.†
The NWS expects that the first round of storms may begin around 5 p.m. this afternoon with another round impacting the state around 11 p.m and lasting through the night into Saturday morning.†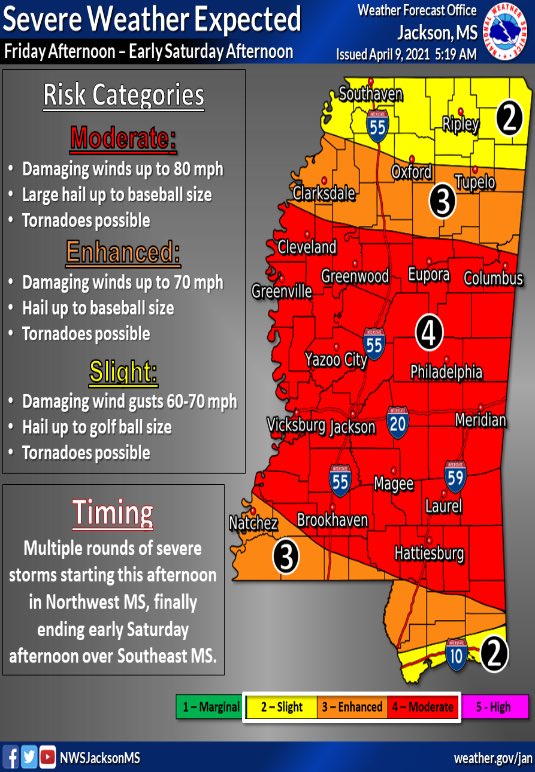 With that in mind, Mississippi Emergency Management Agency Executive Director Stephen McCraney urges you to have multiple ways of getting weather alerts overnight such as making sure your phone is loud enough to wake you up.†
Executive Director McCraney has an update on today's severe weather threat. Please stay alert and have more than one way to receive warnings! #mswx pic.twitter.com/pRcaYw2eiX

ó msema (@MSEMA) April 9, 2021
Ahead of the storm's arrival, make sure you build your emergency kit and have a plan on where youíll go should a tornado warning be issued in your area.†
Go to a safe room, basement, or storm cellar. Mobile homes are not safe during a tornado.
If you are in a building with no basement, then get to a small interior room on the lowest level.
Stay away from windows, doors, and outside walls.

†

If you are in a car, donít try to outrun a tornado and do not get under an overpass or bridge. Youíre safer in a low, flat location.
The post Mississippi braces for latest round of severe weather appeared first on SuperTalk Mississippi.