The entire state of Mississippi faces the threat of severe weather Wednesday, so make sure that your staying alert. 
According to the Mississippi Emergency Management Agency and the National Weather Service, tornadoes, large hail and damaging wind gusts are a possibility throughout the Magnolia State all day Wednesday.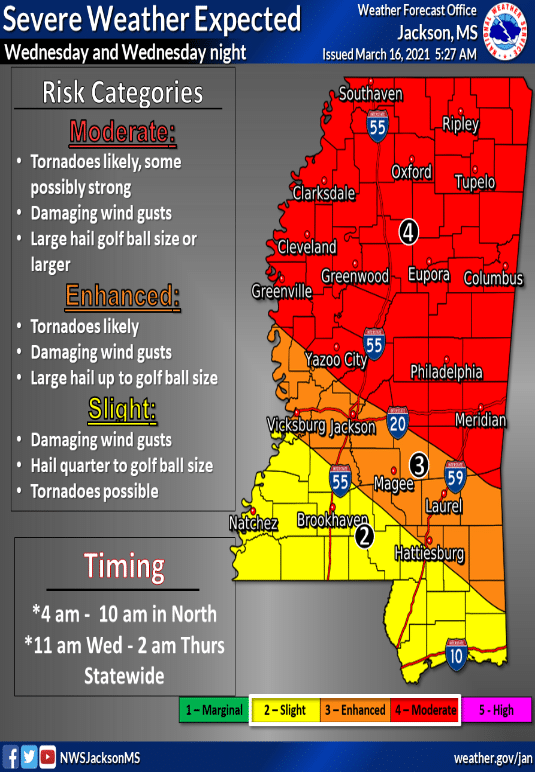 In a message from MEMA Executive Director Stephen McCraney, you're urged to build a disaster readiness kit which should include: 
Flashlight(s) with extra batteries.
Portable radio with extra batteries.
NOAA Weather Radio.
Non-perishable food for at least 3 days.
Bottled water (1 gallon per person per day).
First Aid Kit with prescription medications.
Bedding and clothing for each family member.
Blankets and towels.
Plastic dishes/eating utensils.
Rain Jackets/pants.
Sun screen/sunglasses/mosquito repellent.
Baby supplies (food, diapers, medication).
Pet supplies (food, leash & carrier, vaccination records).
Sanitary supplies.
Toothbrush, toothpaste, soap, shampoo, cleanser, bleach, towelettes, toilet paper, trash bags, feminine hygiene products.
Copies of important documents.
Driver license, SS card, proof of residence, insurance policies, wills, deeds, birth and marriage certificates, tax records, medical records, family pictures, etc.
Cash, enough to fill up your vehicle with gas and travelers checks.
Emergency generator.
Bicycle helmet.
MEMA Executive Director Stephen McCraney gives an update on Wednesday's potential storms. Tornadoes, wind and hail are all possible for a big portion of the state. #mswx pic.twitter.com/zVaS8pRdDy

— msema (@MSEMA) March 16, 2021
Make sure you stay 'weather aware' by following along with your local emergency management officials and the National Weather Service. 
The post Mississippi facing severe weather threat Wednesday appeared first on SuperTalk Mississippi.