Mississippi is making state history with its highest-ever graduation rate.
For the 2020-2021 school year, the graduation rate reached 88.4% while the dropout rate lowered to 8.5% despite restrictions the pandemic has placed on instructors and students. These rates have improved consistently over the past decade, as the rate for graduation was 74.5% and the dropout rate was 13.9% in 2014.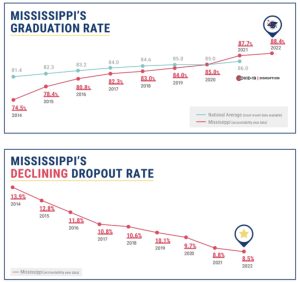 Governor Tate Reeves commented on the numbers on Twitter this Thursday and attributed the success to the teachers during his recent State of the State Address.
"When you look at the data, it looks like a miracle. But, it is not a miracle," he said. "It is the product of dedication of our teachers, a result of the intelligence of our people, and conservative, common-sense reforms enacted by many of us here today. And most importantly, it is achievement that was earned by Mississippi students."
Reeves also mentions in his Tweet that the historical numbers are further proof of why Mississippi teachers deserves a pay raise. This refers to the recent bills passed by the Mississippi House of Representatives and Senate, one called the "START Act of 2022", or HB 530, and the other called SB 2444.
The House's plan was passed with a 114-6 vote to alter the starting pay of teachers in Mississippi from $37,000 to $43,125, exceeding both the regional and national averages. This $219 million plan would consist of increasing all teachers from $4,000 to $6,000 per year, as well as provide a $2,000 raise for teacher assistants.
The Mississippi Senate passed SB 2444 with a 35-0 vote for the $210 million plan later, which would alter the starting pay of teachers in Mississippi to $40,000. In this plan, teachers would receive a pay-increase depending on their certification as well as receive up to $500 step increases every year. The pay increases would start at $1,325 for a baccalaureate, $1,425 for a master's degree, $1,525 for a specialist degree, and $1,625 for a doctoral degree.
Currently, both bills are being considered by the House and Senate with more development to come as the session continues.
View the full MDE Graduation Rate Report here.
$17.6M going to telehealth services within Mississippi schools
The post Mississippi graduation rate breaks state record appeared first on SuperTalk Mississippi.