While damage assessments continue following last week's severe weather event, Mississippi is already gearing up for another round of storms. 
During a Facebook Live session, the National Weather Service outlined the severe weather threat that could see strong thunderstorms, large hail, damaging winds up to 80 mph and significant tornadic activity across a large portion of the state on Thursday.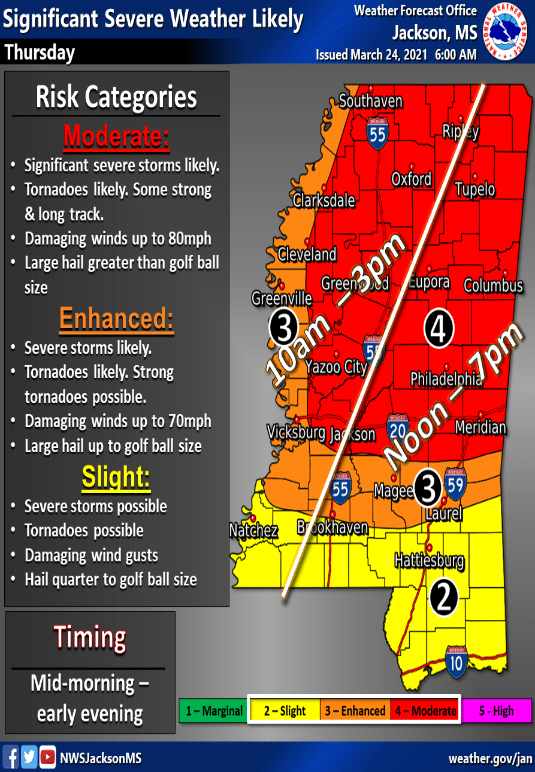 Storms are expected to begin to strengthen in the western portion of the state and move east throughout the day. There is also a marginal threat of severe storms beginning Wednesday night.
Now is the time to develop a safety plan for you and your family in the event of a tornado. The Mississippi Emergency Management Agency provides the following advice.
Go to the lowest level of the home, an inner hallway, or smaller inner room without windows, such as a closet or bathroom.
Get away from windows and go to the center of the room. Avoid corners, because they tend to attract debris.
Get under a sturdy piece of furniture, such as a workbench or heavy table.
Mobile homes are not considered safe during a tornado. Make plans to seek shelter elsewhere.
If you're in a car:
Never try to out drive a tornado in your vehicle. Tornadoes can change direction very quickly and can lift a vehicle and toss it in the air
Get out of the vehicle and take shelter in a nearby building.
If there is no time to get indoors, get out of the vehicle and lie in a ditch or low-lying area away from the vehicle.
Also, be sure to prepare your emergency kit with the following items:
Flashlight(s) with extra batteries.
Portable radio with extra batteries.
NOAA Weather Radio.
Non-perishable food for at least 3 days.
Bottled water (1 gallon per person per day).
First Aid Kit with prescription medications.
Bedding and clothing for each family member.
Blankets and towels.
Plastic dishes/eating utensils.
Rain Jackets/pants.
Sun screen/sunglasses/mosquito repellent.
Baby supplies (food, diapers, medication).
Pet supplies (food, leash & carrier, vaccination records).
Sanitary supplies.
Toothbrush, toothpaste, soap, shampoo, cleanser, bleach, towelettes, toilet paper, trash bags, feminine hygiene products.
Copies of important documents.
Driver license, SS card, proof of residence, insurance policies, wills, deeds, birth and marriage certificates, tax records, medical records, family pictures, etc.
Cash, enough to fill up your vehicle with gas and travelers checks.
Emergency generator.
Bicycle helmet.
Check out the full briefing from NWS below:
The post Mississippi prepares for latest round of severe weather Thursday appeared first on SuperTalk Mississippi.