Going into the weekend, the Mississippi State Department of Health (MSDH) has reported 7,509 more cases of COVID-19.
The latest report brings the state's total number of cases to 681,382. With the confirmation of 14 additional deaths, 10,721 Mississippians have passed away from the virus. Also according to the report, there are currently 316 ongoing outbreaks in long-term care facilities, one less than yesterday.
As of January 19, 1,495 people are hospitalized with confirmed infection of COVID-19. Total hospitalizations peaked at 1,667 during the Delta wave.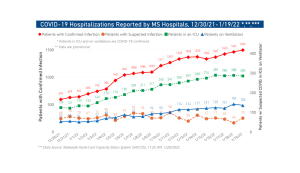 1,475,017 people in Mississippi are fully vaccinated. For the full MSDH report, click here.
The post Mississippi sees 7,509 more cases of COVID-19 appeared first on SuperTalk Mississippi.