Another day, another record-setting rise in new COVID-19 cases in Mississippi. 
This morning's report from the Mississippi State Department of Health includes 5,023 new cases—the third time this week that a new single-day record has been recorded. 381,147 cases of COVID-19 has been confirmed throughout the pandemic, and with the confirmation of *31 additional deaths, 7,761 Mississippians have passed away from the virus. 
*MSDH Note: Nineteen deaths occurred between June 1 and August 8, identified from death certificate reports.
Thursday, Mississippi reached new peaks in terms of hospitalizations and patients in the ICU and on ventilators.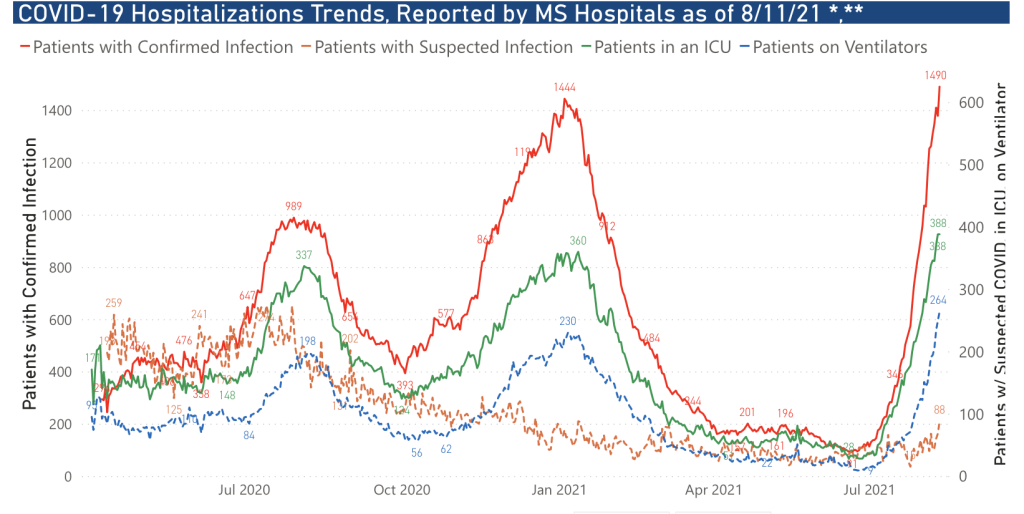 Governor Tate Reeves will address the state later today for the first time since the explosion of new cases across the state. He did extend the 'State of Emergency' order which was set to expire on the 15th. The order has been extended for 30 days and does not include any lockdowns or mandates despite continued calls for a statewide mask mandate in schools. 
The post Mississippi sees record number of COVID-19 cases for third day this week appeared first on SuperTalk Mississippi.