While the Delta variant is causing a surge in new COVID-19 cases and hospitalizations, it may be the driving force behind an increasing number of Mississippians getting vaccinated. 
State Health Officer Dr. Thomas Dobbs shared that vaccinations have more than doubled in recent weeks with the state administering nearly 53,000 shots during the final week of July.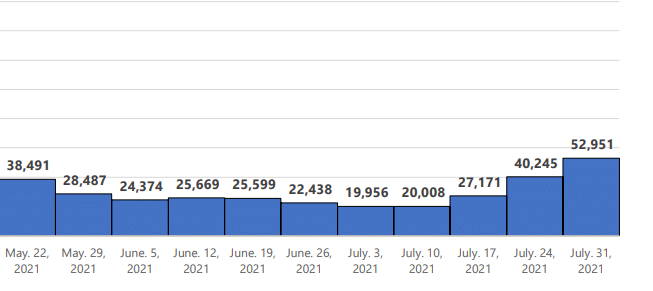 After reaching a peak of around 128,000 shots in late March, vaccinations have steadily declined until the past two weeks. 
According to Dr. Dobbs, "we need ~1 million more immune Mississippians to reach population immunity."
The continued push for vaccinations comes as daily case counts remain over 1,000 and hospitalizations have risen above 1,000 for the first time since January 26th. 
The latest data from MSDH shows that 96% of new cases, 88% of hospitalizations and 82% of deaths are among unvaccinated individuals. 
Overall, Mississippi's vaccination rate sits at 34.5%—the second lowest in the country.
The post More Mississippians getting vaccinated amid Delta surge appeared first on SuperTalk Mississippi.