While Mississippi is beginning to see "somewhat of a decline in hospitalizations and daily cases," the state's top health officials warn that the Delta surge is taking its toll on pregnant women.
During today's press briefing, State Health Officer Dr. Thomas Dobbs shared that the Department of Health is investigating eight COVID-19-related-deaths among pregnant women in the last several weeks. All eight women were unvaccinated.
Dr. Dobbs reiterated that the COVID-19 vaccine is highly recommended for pregnant women by the MSDH, the CDC, the Society for Maternal-Fetal Medicine and the American College of OBGYNs.
"This is something we can do to save multiple lives at one time," he said.
Since the onset of the pandemic, Dr. Dobbs explained that 72 fetal deaths have been associated with COVID-19 in pregnant women—2x the background rate of what would be expected.
Also during the briefing, State Epidemiologist Dr. Paul Byers confirmed the state's 7th pediatric death. The child was less than one year old. The MSDH reported a total of 102 deaths today. Dr. Byers stated that while cases and hospitalizations are stabilizing, deaths will likely continue to rise in the coming weeks following the surge of new cases that occurred in August—over 93,000 cases.
Following recent concerns regarding the 'Mu' variant of the virus, Dr. Byers shared that Mississippi has seen four cases of the strain since May.
"So far, have not seen widespread transmission of this variant," he said.
The number of students quarantined across the state has declined from over 23,000 to just under 15,400 in the latest MSDH data.
Director of Health Protection Jim Craig shared that the state has seen some small improvements in hospital bed availability, however, ICU bed space remains scarce.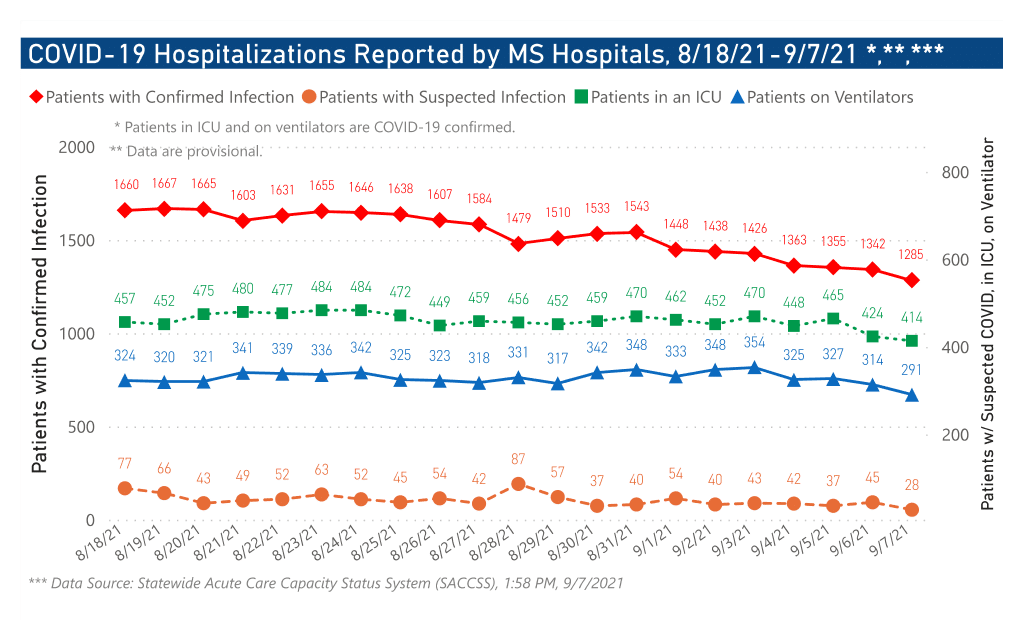 Over 75% of Mississippi's personnel request has been filled by the federal government in an effort to expand hospital capacity across the state. Due to the arrival of that aid, Samaritan's Purse has closed its field hospital which had been operating in the parking garage at UMMC.
Craig also shared that 98% of the state's water systems are operational following Hurricane Ida. Six boil water notices remain active.
The post MSDH: COVID-19 deaths rising among unvaccinated pregnant women appeared first on SuperTalk Mississippi.