On Wednesday, the Mississippi State Department of Health reported 1,062 more cases of COVID-19.
The latest report brings the state's total number of cases to 783,751. With the confirmation of 75 additional deaths, 11,772 Mississippians have passed away from the virus. As of Monday,  717 people with confirmed infection were hospitalized, which is a dramatic decrease from one month ago. Also according to the report, there are 197 outbreaks in long-term care facilities.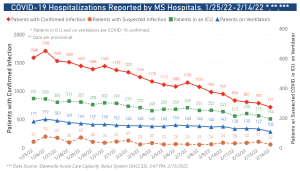 Last week, State Health Officer Dr. Thomas Dobbs went to Twitter to say that emergency room and ICU beds are still full. However, he's grateful to see the dwindling hospital numbers.
Currently, 1,503,782 Mississippi residents are fully vaccinated. To view the full MSDH report from Wednesday, click here.
The post MSDH reports 1,062 new COVID-19 cases, 75 deaths appeared first on SuperTalk Mississippi.