For the first time in 57 days, the Mississippi State Department of Health (MSDH) has reported less than 1,000 COVID-19 cases.
Thursday's confirmation of 587 cases is the lowest since December 15. MSDH also reported 18 additional deaths, bringing the state's total number of Mississippians who have passed away from the virus up to 11,790.
As of Tuesday, 715 with confirmed infection were hospitalized, which is a dramatic decrease from two weeks ago when 1,246 hospitalizations were reported by MSDH.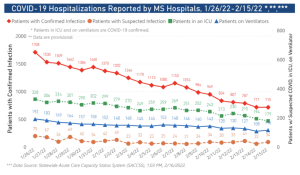 1,433,210 Mississippi residents are fully vaccinated. To view the full MSDH report from Thursday, click here.
The post MSDH reports lowest COVID-19 total since mid-December appeared first on SuperTalk Mississippi.