On Monday, the Mississippi State Department of Health (MSDH) reported a three-day total of 16,595 cases of COVID-19 in Mississippi.
The latest report brings the state's total number of cases to 768,457. With the confirmation of 35 additional deaths, 11,285 Mississippians have passed away from the virus. There are currently 250 ongoing outbreaks in long-term care facilities—eight less than Friday's report.
As case numbers remain high, a panel of medical experts will be hosting a COVID-19 Virtual Townhall on Tuesday at 2:30 p.m.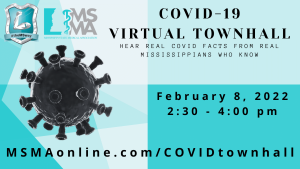 While 1,492,975 Mississippi residents are fully vaccinated, only 35 percent of those eligible have received a booster.
To view the full MSDH report from Monday, click here.
Dobbs encouraging Evusheld for those with weakened immune systems
The post MSDH reports three-day total of 16,595 new COVID-19 cases appeared first on SuperTalk Mississippi.