For the first time in a long time, the latest report from the Mississippi State Department of Health includes less than 100 new cases of COVID-19. 
Today's report of 70 cases—which does follow a trend of lower case counts on Mondays—is the state's first day below the century mark since March 31, 2020, and brings th state's total up to 297,651. To date, 6,808 Mississippians have passed away from the virus, but no additional deaths were included in today's report.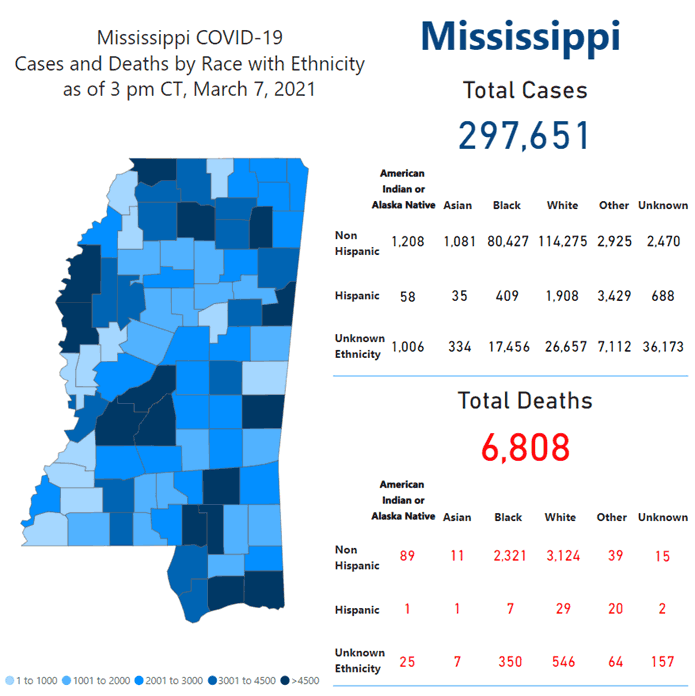 Overall hospitalizations have not been updated since Friday as the number continued its sharp decline. 
As restrictions ease in Mississippi, the state's 7-day average of new cases has fallen to 379. Last week, Governor Tate Reeves announced that all state-issued mask mandates (with the exception of k-12 schools) would be rescinded. Local cities and counties can implement their own mandates.
The following public health guidance was issued by the MSDH last week for at-risk populations.
"All Mississippi residents aged 65 or older, or 16 and older with serious chronic medical conditions, should avoid all social gatherings outside of the household or any in-person mass gathering, including religious ceremonies, or sporting events, until fully protected by an approved COVID-19 vaccine."
To date, over 750,000 doses have been administered in Mississippi. First dose appointments remain available at covidvaccine.umc.edu. Last week, vaccine eligibility expanded to Mississippi's 50+ residents.
The post New COVID-19 cases under 100 for first time since March 2020 appeared first on SuperTalk Mississippi.