Graphic Courtesy of Ole Miss Athletics 
The Ole Miss women's golf team has brought a national championship back to the state of Mississippi.
With a 4-1 victory over Oklahoma State at Grayhawk Country Club in Scottsdale, Arizona, the Rebel golf team captured the school's first national championship since 1962 and the first women's national title in Ole Miss history.
FOR THE WIN @OleMissWGolf wins the #NCCAGolf Women's Golf Championship pic.twitter.com/nSONbw679T

— Golf Channel (@GolfChannel) May 27, 2021
Here's how it happened: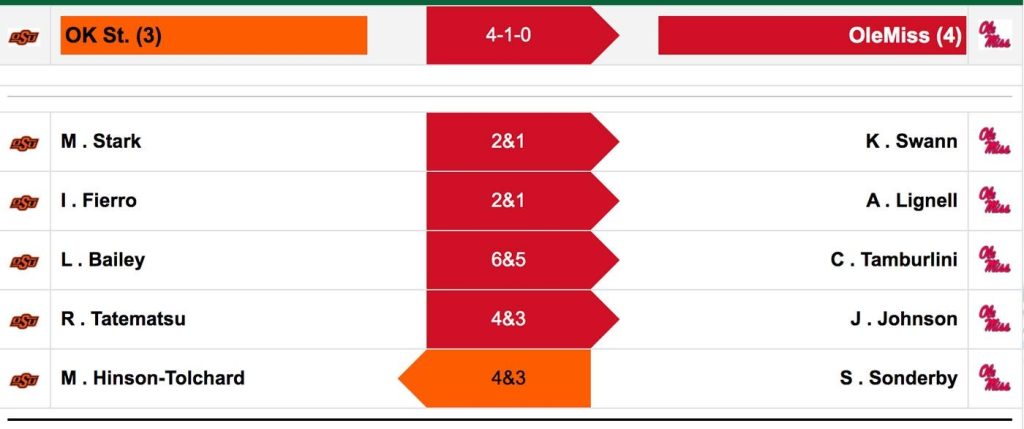 Head coach Kory Henkes took over a program that was ranked 134th in the country in 2015 and walked off the course today as a national champion.
"It took a lot of players to buy in. Our team is very disciplined, I think that's what I pride us on the most. When we come out the practice, we have a purpose every single day and we hold each other accountable. [The coaches] don't necessarily have to push [the players] as much as they are going to push each other, so I think that's the important part of team chemistry is having everyone buy into the same thing," Henkes said following the trophy presentation.
Senior Kennedy Swann spoke with the Golf Channel about the lasting legacy she hopes to leave with the program after leading the team to a title.
Talk about a Swann song!@Ken_you_dig_it_ helped change the program. pic.twitter.com/ycw3A4ewvZ

— Ole Miss Women's Golf (@OleMissWGolf) May 27, 2021
After qualifying for match play at the NCAA Championship for the first time in program history, the Rebels earned their spot in today's championship match with a dramatic, sudden-death victory over Texas on Monday and a semifinal victory over Arizona.
The post Ole Miss Women's Golf captures 2021 NCAA National Championship appeared first on SuperTalk Mississippi.