Mississippi Congressman Steven Palazzo recently toured the southern border with the Congressional Border Security Caucus, witnessing ports of entry and emergency intake facilities as well as meeting with experts from Customs and Border Protection (CBP) and Immigration and Customs Enforcement (ICE), and members of the National Border Patrol Council.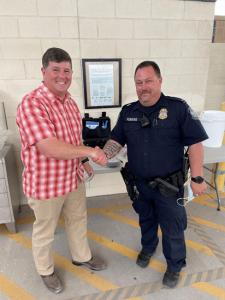 "My motivation to make this trip became increasingly pressing as the crisis at our border worsens. When I took office, I swore an oath to uphold the Constitution and promised myself, my family, and my constituents, that I would do whatever I can to protect this great nation. Having served as a Marine in the Gulf War and now serving as a Mississippi National Guardsman, I know all too well how vulnerability at our borders jeopardizes the safety of our nation.
"This Congress, I rejoined the Border Security Caucus to help lead the House of Representatives in finding solutions to the crisis at our southern border. It is important that the American people know that there are no Democrat members of the Border Security Caucus. Ensuring that our nation is safe from foreign invasion should not be a partisan issue, and yet, Democrats are refusing to address this crisis for political reasons.
"This carefully orchestrated invasion is no matter of chance. President Biden campaigned on open border policies and amnesty for illegal invaders. He created and continues to exacerbate the vulnerability that we see our country facing. It is time that my colleagues across the aisle put aside their personal agendas and join the Republican party in fighting for America's safety. Allowing this crisis to continue, is allowing cartels to win. America is losing to drug smuggling criminals because of Democrats' agenda to increase their own power rather than meet the needs of Americans.
"The issue that concerns me most is the never-before-seen amounts of dangerous drugs like cocaine, methamphetamine, and fentanyl streaming into our neighborhoods from the southern border. Enough fentanyl to kill every man, woman, and child in America has been seized at our southern border in the last year. This crisis is worsening our nation's drug epidemic and will inevitably lead to the destruction of our communities and countless lost loved ones. Without bipartisan solutions, this crisis will take more lives.
"Walls work. We see this when we construct them around our own homes and schools. I am calling on President Biden and my Democrat colleagues in Congress to put aside partisan politics and to help keep Americans safe by completing the border wall and reimplementing the "Remain in Mexico" policy. Border Security is National security, and without a strong border, we won't be a nation much longer."
The post Palazzo returns from southern border with deep concerns about the worsening crisis appeared first on SuperTalk Mississippi.