Photo Courtesy of Samaritan's Purse
As Mississippi hospitals struggle with rising admissions and limited resources, a nonprofit organization is bringing a field hospital to the parking garage of the University of Mississippi Medical Center. 
Samaritan's Purse is setting up operations for a facility that can treat as many as 10 ICU patients and 50 non-ICU patients to assist with the surge in hospitalizations that the state has experienced in recent weeks.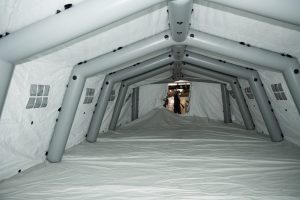 "We are grateful for the opportunities that God has given us over the past year and a half to minister to communities impacted by COVID-19," Franklin Graham, president of Samaritan's Purse, said. "Please join me in praying for our team of disaster response specialists as they meet the physical needs of coronavirus patients in Mississippi while sharing the peace and hope found in Jesus Christ."
The facility will be staffed by members of the Samaritan's Purse's medical team, which are currently on site determining needs as they coordinate with UMMC leadership. 
Last week, UMMC opened a similar facility in its parking garage. The 50-bed space opened on Friday and is being staffed by a federal medical disaster team. 
In total, hospitalizations in Mississippi have increased to just under 1,500 after that number had fallen below 100 in late June. This coincides with record-setting case numbers over the past few weeks due to a combination of the highly-contagious Delta variant and the state's low vaccination rate.
Detailed by Governor Tate Reeves last week, Mississippi has a sizable request out to the federal government for additional healthcare professionals to be deployed to the state. If approved, those resources would open up 770 hospital beds and 235 ICU beds across the state. 
The post Samaritan's Purse setting up field hospital at UMMC appeared first on SuperTalk Mississippi.