Lane Kiffin's return to Rocky Top was expected to bring a raucous energy to Neyland Stadium in Knoxville, but last night, things took a turn for the worse late in the 4th quarter.
After a review confirmed that Tennessee TE Jack Warren was just shy of converting a 4th and 24 as the Vols attempted a comeback, water bottles and other debris began raining down from the checkered sea of 100,000+ fans. At one point, Kiffin was nearly hit by a neon yellow golf ball, which he was able to laugh about after the game.
"I don't know if I'm more excited we found a way to win or I didn't get hit by a golf ball they were throwing at me," he told ESPN's Cole Cubelic.
As officials struggled to get the crowd under control, the game was delayed for over 20 minutes while players were moved from the sidelines and the Tennessee band and cheerleaders left the field.
Following the wild scene in Knoxville, SEC Commissioner Greg Sankey issued the following statement.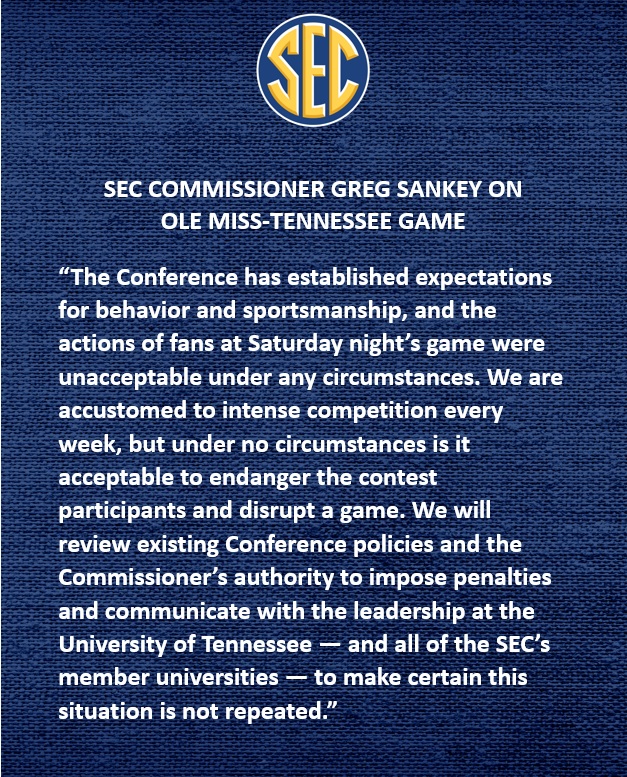 UT Chancellor Donde Plowman tweeted that she was "astonished and sickened" by the actions of the fans and she plans on calling Ole Miss Chancellor Glenn Boyce to apologize.
While there was talk on the television broadcast of potentially ending the game, play resumed with under a minute left and the Rebels failed to clinch the game with a first down. The Vols got the ball back down 31-26 with a chance to win. Starting QB Hendon Hooker went down with an injury on the final drive and Joe Milton III came in for the final three snaps. Like last week against Arkansas, it came down to one play for the Rebels and the defense held as Milton attempted to scramble and inexplicably decided to run out of bounds. 
The post SEC Commissioner addresses trash-throwing Tennessee fans appeared first on SuperTalk Mississippi.