A plan to redraw the state's four congressional districts has been approved by the Mississippi Senate and is heading to the desk of Governor Tate Reeves.
Last Thursday, the Mississippi House of Representatives passed the "Magnolia 1" plan, which will virtually equalize the four districts while drastically increasing the geographic size of District 2.
The plan passed both chambers mostly along party lines with this week's Senate vote being 33-18. 16 of the nays came from Democrats, two from Republicans. One Republican chose not to vote.
Democrats in both the House and the Senate have taken issue with the map, saying that it could lessen the influence of Black voters.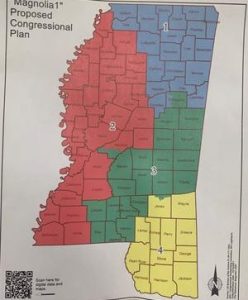 Both Senate Minority Leader Derrick Simmons and House Minority Leader Robert Johnson proposed amendments in which the four southwestern counties remain in District 3 and all of Hinds County and a portion of Madison County go to District 2, providing the 70,000 people needed.
"Efforts to make CD2…as compact as possible by adding all of Hinds County and a portion of Madison County, were not ever considered or debated within the joint redistricting process," Johnson said in a statement. "If this map passes, it will make it virtually impossible for anyone to effectively and efficiently represent the 2nd district."
Reeves, a Republican, is expected to sign the map into law.
The post Senate approves congressional redistricting plan; Reeves expected to sign appeared first on SuperTalk Mississippi.