The Biden Administration is looking to pass its roughly $2 trillion infrastructure plan, and Mississippi's 11th District Senator Robert L. Jackson is urging Mississippi's Congressional delegation to support it.
Jackson penned the following letter to U.S. Senators Cindy Hyde-Smith and Roger Wicker, and Congressmen Trent Kelly, Bennie Thompson, Michael Guest, and Steven Palazzo:
---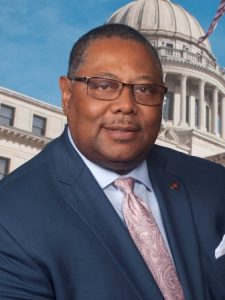 From Mississippi 11th District Senator Robert L. Jackson:
May 3, 2021
Mississippi like no other state has an awesome opportunity to invest in our crumbling infrastructure.  President Joe Biden has called for a huge investment in our infrastructure and I for one think it is a great idea as we have for years neglected our roads, bridges, ports, parks, and other public venues.
Mississippi meets the three prerequisites the Biden Administration said would qualify for priority funding – (1) rural, (2) poor, (3) areas that were left out or overlooked.
The Mississippi Delta certainly meets this description.
I am, with this letter, advocating for 4-laning of Highway 6/278 from Batesville to Clarksdale and to complete the Highway 61 corridor that was never finished.  I also ask that I-69 be completed as it is planned to become part of a route that run from the Mexican border in Texas to the Canadian border in Michigan.
In terms of Hwy 6/278, I have long worked to make this happen but because of a lack of funding, are no closer than we were twenty years ago.
The legislation being promulgated by President Biden offers us a rare opportunity to accomplish these goals in our lifetimes, if we can work together and bury the bitter partisan politics and do what is good and right for the people of Mississippi.
Mississippi has long been overlooked and too little has been invested from state sources and the federal government in our infrastructure for the past fifty years.
I am asking each of you Senator Hyde-Smith and Wicker and Representatives Kelly, Thompson, Guest and Palazzo to come together across party lines and help Mississippi obtain its share of infrastructure funding being proposed by President Biden.
Sincerely,
District 11 Mississippi Senator Robert L. Jackson
---
Republicans have made it clear they do not support pouring trillions into new spending packages.
Senator Roger Wicker said, "Infrastructure has always enjoyed bipartisan support in Congress. Republicans introduced a $568 billion proposal to improve our nation's roads, bridges, rail, ports, water systems, and broadband. Some Democrats, however, are pushing a separate bill that would cost taxpayers more than $2 trillion and would include many non-infrastructure priorities – this will only stall our economic recovery."
On Twitter, Congressman Bennie Thompson said, "The infrastructure package offered by @POTUS administration would greatly benefit Mississippi as well as other states in our great nation."
Congressman Steven Palazzo said, "Just 5% of Joe Biden's so-called "infrastructure" bill is infrastructure spending. The rest is a job-killing Green New Deal disguised in sheep's clothing."
Congressman Michael Guest stated, "Less than 6% of Biden's infrastructure plan goes to traditional infrastructure. The bill is packed with unnecessary funding that is completely unrelated to our nation's real infrastructure needs. We can cut the socialist spending policies and give the American people an infrastructure bill focused on infrastructure."
Senator Cindy Hyde-Smith said, "Our infrastructure system needs updating, but just 5-7% of Biden's "infrastructure" plan actually goes to fixing our roads and bridges. Let me tell you why I favor the Republican proposal: 53% of our plan goes to roads and bridges, 11% to broadband, 11% to transit, and 8% to airports. That's what a real infrastructure plan looks like."
President Biden has indicated he is willing to negotiate with the GOP on the legislation, Republicans remain opposed to the Democrat's proposal of financing the plan by raising corporate taxes from 21 to 28 percent.
The post State Senator urging MS delegation in DC to support President's infrastructure plan appeared first on SuperTalk Mississippi.