The following is an op-ed written by Brent Bailey, Central District Public Service Commissioner
---
Automobiles are as intertwined in American history, culture, and innovation as almost anything else imaginable. Vehicles give us freedom, autonomy, an image, and confidence. For well over 100 years, cars, light trucks, SUVs, and vans have carried us home from the hospital, to and from school, to and from work, on vacation and whatever other errands we needed to run. For that entire time, but for a very few exceptions, the automobile's drive train has been powered by the internal combustion engine fueled primarily with petroleum-based fuels. While the automobile has helped to advance many of the great things that America is known for today, its use has significant costs associated with roadway fatalities, tailpipe emissions, sourcing of fuel and general maintenance.
Despite the known societal, environmental, public health and geopolitical costs of the traditional automobile, Americans are emotionally attached to our cars and light trucks. I love my GMC Duramax. So, if we are not willing to give up our cars despite the known impacts, would people consider adopting vehicle technologies that are less impactful – such as an electric vehicle?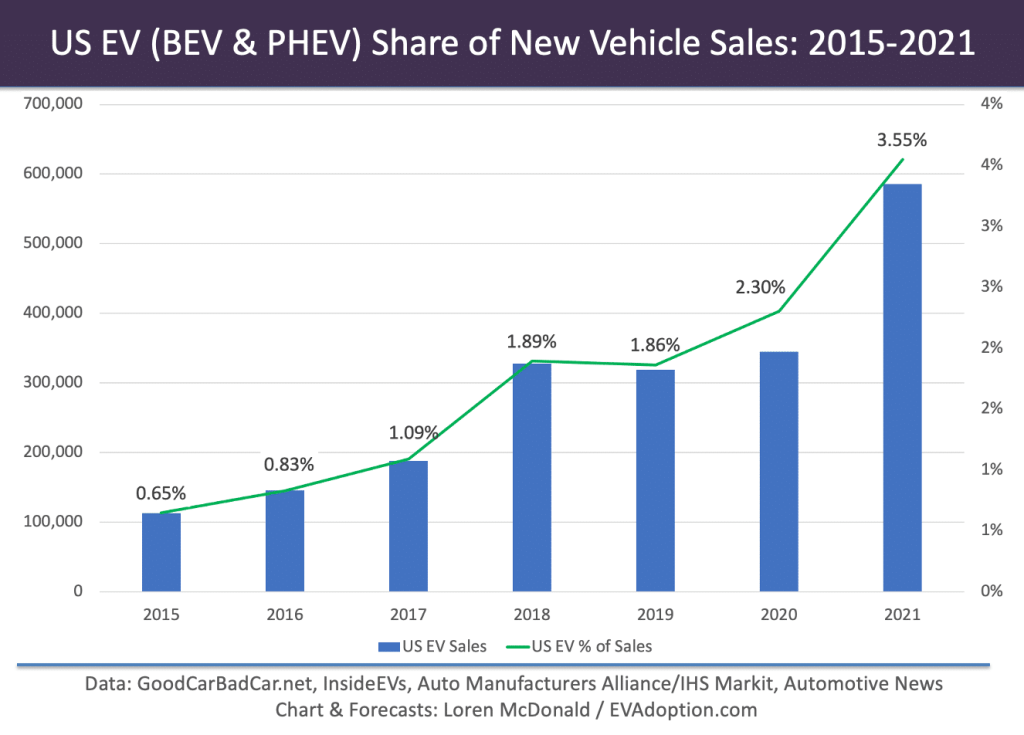 There are approximately 287 million registered vehicles in the U.S. The figure includes passenger cars, motorcycles, trucks, buses, and other vehicles. (U.S. population is 333,406,000) Americans purchase roughly 17 million petroleum-fueled vehicles each year. In contrast, electric vehicles (EVs) will comprise of nearly 600,000 of vehicles sold in 2021. EV sales increased in 5 out of the last 6 years.
Are Americans now trending towards purchasing an electric vehicle? The 2021 Global Automotive Consumer Survey found that 41% of U.S. drivers said they would consider an alternative powered car for their next vehicle.
Consumers interested in EVs like the environmental benefits, ability to bypass gas stations and low maintenance costs. But the range of travel, vehicle cost and other issues keep 45% of U.S. drivers convinced that traditional gas-powered cars are the way to go. Two-thirds of Americans surveyed say EVs need to have a range of at least 200 miles.
Until recently, early adopters supported by some state and federal incentives have driven EV sales. But as technology evolves, consumer knowledge increases, and EV offerings expand, customers ARE slowly turning their attention to EVs. Wider adoption of EVs will likely require more coordination by government, manufacturers, and dealers.
Ambitious Goals
On August 5, 2021, President Biden signed Executive Order 14037 that set a goal of 50% of all new vehicles sold in the U.S. by 2030 will be zero-emission vehicles. The Order also directed the EPA to begin drafting new emissions standards for light- and medium-duty vehicles for model years 2027 through 2030. Auto makers have not only announced their support of the goal but have announced their own corporate paths for transitioning to electric vehicle deployment.
General Motors (GM) announced plans to introduce 30 new electric models by 2025 and make its last gas-powered auto and SUV by 2035. GM has even turned the Hummer into a totally electric vehicle. Ford announced that 40% of its vehicles will be electric powered by 2030. To support these goals, GM is investing $35 billion, and Ford is committing $30 billion.
Stellantis (Chrysler, Dodge, Jeep, and Ram) intends for over 40% of its sales in the United States to be low-emission vehicles by 2030. Volkswagen expects half of its sales in the U.S. to be EVs by 2030. Audi intends to phase out production of internal combustion engines by 2033, and only launch new EV models starting in 2026. By the early 2030s, every all-new Nissan vehicle offering in key markets will be electrified. Toyota will electrify all models by 2025 and increase offerings of hydrogen and fuel cell vehicles. Many other auto makers have set goals for transitioning its fleet.
Charging Ahead
One of the main obstacles to rapid adoption of electric vehicles is "range anxiety", or the fear that a vehicle has insufficient range to reach its destination. However, improvements in battery technology, control systems, and public charging station availability has reduced the concern.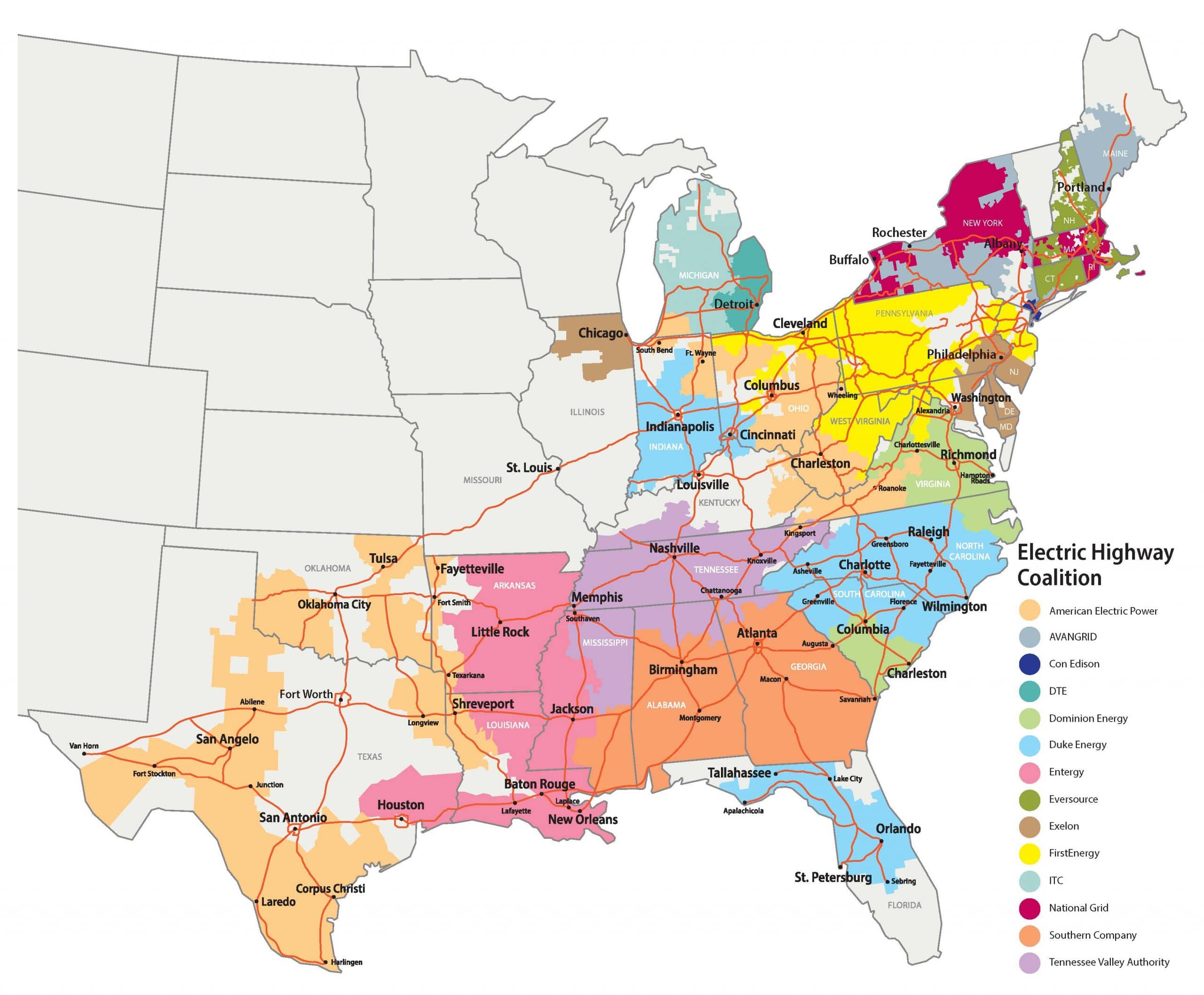 To further offer convenient charging options across the region and allow EV travel without major interruption, six major utilities – made up of American Electric Power, Dominion Energy, Duke Energy, Entergy Corp., Southern Co., and the Tennessee Valley Authority – announced a plan to enable EV drivers seamless travel across major regions of the country through a network of DC fast chargers for EVs.
There are three "levels" of chargers available to EVs: The 120-volt standard wall plug charges slowly but is most accessible; the 240-volt "level 2" is the same outlet as required for clothes dryers or electric ovens and provides a full charge in eight hours or less; the "level 3" direct current fast charger can charge a battery up to 80% in 30 minutes. Level 2 chargers are the most widely available with over 44,000 located across the country and 93 located in Mississippi. Check out the DOE Alternative Fuel Station Locator. Most plug-in EV owners charge at home over 80 percent of the time. It's just a matter of getting used to plugs instead of gas pumps and planning for a little extra time to complete the charging process. Consumers have shown the ability to adapt to EV ownership and range issues.
Power Supply Concerns
Assuming that there are 40 million electric vehicles on U.S. roads by 2030, you may ask "Where will the electricity come from to recharge all those vehicles?" According to the DOE, the electricity to power all those vehicles is expected to come primarily from renewable energy sources and natural gas. To realize that vision, electricity from intermittent sources like wind and solar will need to be stored, probably through large-scale battery technology, so that EVs can charge overnight or at other times when supply outstrips demand. At the same time, many utilities are embracing EV sales growth as an opportunity to use excess wind and solar power generated at very windy or sunny times when supply exceeds demand.
Regardless, utilities will need to invest in new grid and charging infrastructure in the near-term. Those near-term investments will likely mainly be in the electric distribution network. Overall electricity consumption has remained steady or decreased and therefore the U.S. power system has enough generation capacity to support EV growth without the immediate need for big investments in generation. The gradual pace of EV adoption should allow utilities to adapt and adjust. Regardless, the investments needed to improve grid resilience, allow power flow flexibility, and ensure available capacity for a growing EV fleet are real and those investments will be recovered from ratepayers.
Investments in the region
As auto manufacturers seem to be going all-in on EVs, they are also betting big on new facilities to support the manufacturing process. Ford Motor Co. and Korean battery maker SK Innovation announce plans to build a $5.6 billion electric vehicle and battery plant in Tennessee and $5.8 billion twin battery plants in Kentucky. GM is currently building a Ultium Cells battery plant in Tennessee near its Spring Hill Assembly Plant, where it will build the Cadillac Lyriq electric SUV. GM has committed to build at least two more battery manufacturing plants in the U.S. The first vehicles just rolled off the line at Volkswagen's newest manufacturing facility in Chattanooga, TN. Tesla's Gigafactory in Austin, TX is preparing for production of the Model Y and CyberTruck. The Mercedes-Benz facility near Tuscaloosa, AL is the midst of a $1 billion transition to EV manufacturing. A Canadian lithium-ion battery recycling company will also build a plant in Alabama. Nissan will continue to manufacture the Leaf in Smyrna, TN.
The Southeast represents a significant share of the nation's EV manufacturing jobs and investment. However, Southerners have been slow to adopt EVs into their homes. Why? Part of the reason could be the lack of incentives. While the federal government offers EV tax credits up to $7,500 and charging station tax credits up to $1000, no state in the Southeast offers any tax credit or financial incentives for buying EVs. Rather most Southern states impose a fee on EVs, some up to $200 annually.
Regardless, electric vehicles have the potential to reshape the transportation sector in the United States, drastically cutting carbon emissions and clearing the way for vehicle-to-grid integration. On average, EVs convert over 77% of the electrical energy from the grid to power at the wheels, while gasoline vehicles only convert between 12% to 30% of the energy in gasoline to power at the wheels. Though EVs still emit carbon emissions through the manufacturing process and from the fossil fuels used to generate the electricity they need to recharge, their enhanced energy efficiency secures significant emission reductions.
Next steps for Mississippi
I concede that there remain significant hurdles to widespread adoption of electric vehicles by consumers and that petroleum-fueled vehicles will be around for decades to come. And I feel like I only scratched the surface of the EV debate. However, the economic, environmental and energy security case for EVs continues to get stronger. Do your own research, weight the costs and benefits of an EV, determine your needs and goals, and make an informed decision on what type of vehicle is best for you.
Also, Mississippi has joined the Southeast Regional Electric Vehicle Information Exchange (SE REVI), a regional collaboration of State and Territory Energy Offices from across the Southeast U.S. focused on sharing information and best practices and collaborating on EV infrastructure planning, policy development, and program implementation. States and territories participating SE REVI have launched a multi-state electric vehicle (EV) infrastructure map to enable coordination across the region on EV infrastructure investments. This resource will help enable coordination on EV infrastructure investments to reduce EV owners concerns regarding charging access when away from home.
The post The future of electric vehicles: Op-ed by Central District Public Service Commissioner Brent Bailey appeared first on SuperTalk Mississippi.