March 11, 2020—the day that the Mississippi State Department of Health confirmed the state's first case of COVID-19.
That same night, the suspension of the NBA season triggered a string of cancellations across the country and ever since, we've all been awaiting a return to "normal."
One calendar year later, with vaccination efforts quickly ramping up, there seems to be a glimmer of hope that we're approaching the end of the pandemic, but it's been a long road to this point. Through numerous waves and peaks, Mississippi has now seen just shy of 300,000 total cases of the once-unknown virus and it has claimed the lives of 6,845 Mississippians.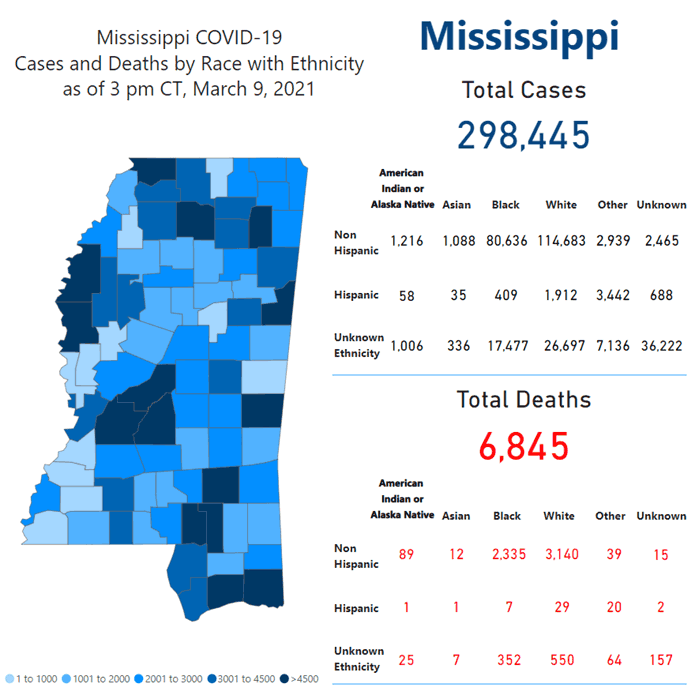 Concerns regarding an overrun of the state's healthcare system have persisted throughout the pandemic as the need for ventilators and ICU beds became a pressing issue across the state by the summer. As recently as this January, overall hospitalizations appeared to overwhelm the system once again reaching a peak of over 1,400. This number has since plummeted.
Today, the state of Mississippi is a far cry away from the stay-at-home orders of the past as Governor Tate Reeves announced last week that all state-issued mask mandates and restrictions on businesses had been rescinded. As college baseball season hits its stride, fans are ready to get back to the ballpark after the onset of the pandemic put a halt to what was shaping up to be a special season in Mississippi.
The first doses of the vaccine were administered to the state's top health officials in late-December. Now, with three vaccines in the toolshed, Mississippi has administered around 800,000 doses with eligibility continuing to expand.
Everyone in the state of Mississippi now knows State Health Officer Dr. Thomas Dobbs, who has appeared alongside the governor at just about every press conference since day one. When asked how he would describe the past year in just two words, he quickly said "frightening and amazing."
"It's been terrifying, we've lost a lot of folks, but amazing to see what can happen when good, smart, devoted people come together to do good work," he explained.
State Epidemiologist Dr. Paul Byers followed up with "tragic" and Senior Deputy and Director of Health Protection Jim Craig added "heroes" while thanking the countless healthcare workers that have served on the frontline of this pandemic.
As we hope to take a small step toward "normal" once again, Dr. Dobbs urged the "steady investment" of public health systems across the country to ensure our readiness for whatever the next threat may prove to be.
While taking a look back at the previous year and looking ahead, Dr. Dobbs urged everyone to realize that we have not yet reached the pandemic's end.
"COVID is real and we're really winning, but just like in a baseball game, just if you're up a run or two in the 6th or 7th inning, you don't just lay down and let the other team go at it on offense. It's time to continue with some of the safety measures we have in place," he said.
These measures include wearing a mask in public, avoiding large indoor gatherings and getting vaccinated.
Watch below as MSDH Officials reflect on the past year:
The post Today marks one year since Mississippi's first case of COVID-19 appeared first on SuperTalk Mississippi.