On Wednesday morning at 9:15, tornado drill sirens will be blaring across the state.
Don't worry. It's just a test.
Statewide Tornado DRILL THIS MORNING at 9:15

As part of Severe Weather Preparedness Week, there will be a statewide tornado drill at 9:15 this morning. We encourage everyone that can participate to identify and practice getting to their safe place at that time. pic.twitter.com/y3FqScTLQU

— msema (@MSEMA) February 16, 2022
This week is Spring Severe Weather Preparedness Week, and the Mississippi Emergency Management Agency (MEMA) is partnering with the National Weather Service (NWS) to educate people prior to the upcoming spring severe weather season.
The following are some tips from MEMA to help you prepare your home and family for a tornado:
WHAT TO DO IF YOU ARE IN YOUR HOME DURING A TORNADO:
Go to the lowest level of the home, an inner hallway, or a smaller inner room without windows, such as a closet or bathroom.
Get away from windows and go to the center of the room. Avoid corners, because they tend to attract debris.
Get under a sturdy piece of furniture, such as a workbench or heavy table.
IF YOU ARE IN A MOBILE HOME:
Evacuate the mobile home, even if it is equipped with tie-downs. Take shelter in a building with a strong foundation, or if one is not available, lie in a ditch or low-lying area a safe distance away from the mobile home. Tornadoes cannot change elevation quickly enough to pick someone up out of a ditch, especially a deep ditch or culvert.
IF YOU ARE AT WORK OR SCHOOL:
Go to the basement or to an inside hallway at the lowest level of the building.
Avoid places with wide-span roofs, such as auditoriums, cafeterias, large hallways or shopping malls.
Use your arms to protect your head and neck.
IF OUTDOORS:
If possible, get inside a sturdy building with a concrete foundation.
If shelter is not available, or there is no time to get indoors, lie in a ditch or low-lying area or crouch near a strong building.
Be aware of the potential for flooding.
IF YOU ARE IN A VEHICLE:
Never try to out-drive a tornado in your vehicle. Tornadoes can change direction very quickly and can lift a vehicle and toss it in the air
Get out of the vehicle and take shelter in a nearby building.
If there is no time to get indoors, get out of the vehicle and lie in a ditch or low-lying area away from the vehicle.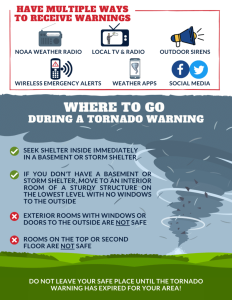 In 2021, 76 tornadoes were confirmed in Mississippi, 50 of which were in the spring.
The post Tornado preparedness tips from MEMA appeared first on SuperTalk Mississippi.