Image above: Larry Branch (l), Master Trainer and Paint Technician at Nissan Canton Vehicle Plant, was recognized as a Stars winner at the sixth annual Stars of Southern Manufacturing Awards at the Southern Automotive Conference. Kevin Burgess, President of the Mississippi Automotive Manufacturers Association, presented the award.
---
Larry Branch, Master Trainer and Paint Technician at Nissan Vehicle Plant in Canton, Mississippi, and Annette Hill, Quality Section Manager at PACCAR Engine Company in Columbus, Mississippi, were recently recognized as two of nine winners in the South with a Stars of Southern Manufacturing Award. The award was presented at the Southern Automotive Conference in Birmingham, Alabama and they were also honored with a plaque from the Mississippi Automotive Manufacturing Association along with a gift card sponsored by North Mississippi Industrial Development Association (NMIDA).
MAMA serves its members by promoting growth, development, and improvement in the automotive industry in Mississippi, as well as serving as a forum for interaction among automotive manufacturing companies in the state. In extending his congratulations to Larry and Annette, Kevin Burgess, MAMA's President, said, "MAMA is proud to recognize the production workers that are so crucial to the automotive manufacturing industry in Mississippi. Larry's and Annette's dedication to superior leadership, teamwork and commitment to best practices in manufacturing set them apart."
Larry Branch
According to JD Delancey-Senior Manager Paint, "Larry's adaptability and his display of the Nissan Way Mindset of "Continuous learning" has afforded him the opportunity to obtain new techniques and learning processes from his international training experiences in Japan and Mexico. His abilities have been recognized at the highest levels in the North American region as he was twice selected by the regional Senior Vice-President to travel to Mexico to assist with training and production onboarding for one of the new plant startups."
When describing Branch at the recognition event, Larry's current leadership, Derek Polk-Director Paint and Fascia, said the following, "As a support member for New Model development, Larry represented both the Paint and Fascia Plant activities for new vehicle introduction into production. During a periodic process review, Larry noted a potential issue. Larry took the initiative to investigate the concern extensively as the initial feedback did not satisfy the process needs from his viewpoint and he refused to accept a status quo response. Upon further review Larry's findings and recommendation was accepted and adopted into production. Larry was recognized and commended for going above and beyond his role in recognizing an issue and taking action outside his normal responsibility that jointly benefited our employees and the company."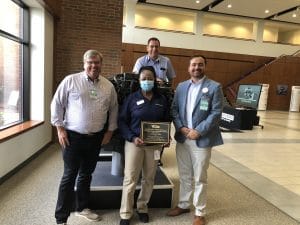 Annette Hill
According to Lex Lemmers, Director of Program Management and Resident Engineering at PACCAR, "Annette has served in various leadership roles at PACCAR since joining the team in 2012. With proficiency in quality assurance, materials management, and SAP ERP (Systems Applications Products in Enterprise Resource Planning), she has excelled as an influential leader in the Materials Department at PACCAR Engine Company. Coupled with these skills, her hands-on approach as a front-line production manager has made her a valuable asset to the company."
When describing Hill at the recognition event, Annette's current manager, Brent Polley, Quality Manager at PACCAR, said the following, "Annette has strong cross-functional knowledge that she uses to support her co-workers who might not have had the same opportunities to serve in other areas. Her 'moral compass' always points northward, and she leads others by setting realistic expectations, evaluating performance fairly, and exemplifying the same expectations in her daily performance. She has empowered her team to improve multiple facets of the business with her solution-oriented focus and motivational style of leadership."
---
Stars Awards are given to employees at a Southern Original Equipment Manufacturer (OEM) or Tier I supplier who epitomize excellence in the automotive manufacturing industry. The nominees for the award work on the factory floor, possess exemplary skills that enable the company to meet the demands of modern manufacturing, and enhance the work environment by bringing the best out of colleagues, encouraging collaboration, and reflecting the most desirable values of the company culture. The sixth annual Stars of Southern Manufacturing Awards recognized winners from SAC states including Alabama, Georgia, Kentucky, Mississippi, South Carolina, Tennessee, and Texas.
The post Two MS production workers honored for their commitment to manufacturing excellence appeared first on SuperTalk Mississippi.